Rare 'Lightning Bolt' gold nugget sells for incredible $162,500
---
2018-08-20T13:00:00 Liam Sheasby, News Editor
20 Aug 2018, 1 p.m.
A lightning bolt-shaped gold nugget discovered in Australia has sold for an astounding $162,500 at an auction in America. Heritage Auctions hosted the sale on Saturday August 18th in Dallas, Texas, with the winning bid coming from an anonymous internet bidder for the equivalent of £127,320.37.
The nugget was discovered in Victoria, Australia, and weighs 1,241 grams or 39.9 troy ounces. The lot's description called the nugget 'beyond compare' and 'worthy of any museum or private collection in the world'. Experts estimated that due to its unusually large size (10.63 inches by 2.36 inches by 1.43 inches) that the nugget would fetch up to $100,000 (£78,000) but strong competition pushed the final sale price even higher.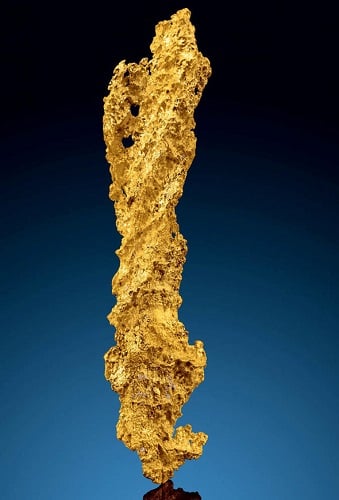 Craig Kissick, the Nature and Science Director at Heritage Auctions, said: "Gold is universal. It has been for centuries, and the demand for Gold will remain, or even increase, for generations to come. The fact that the vast majority of all Gold produced has been melted down for its pure content makes a nugget like this one even more impressive. Nuggets like this are far more rare than diamonds."