---
Cryptocurrencies around the world are reeling after the announcement that South Korea may ban cryptocurrency trading outright. Many of the world's major cryptos are based in China, Korea, and Japan, so a ban in one of those nations would have a knock-on effect globally.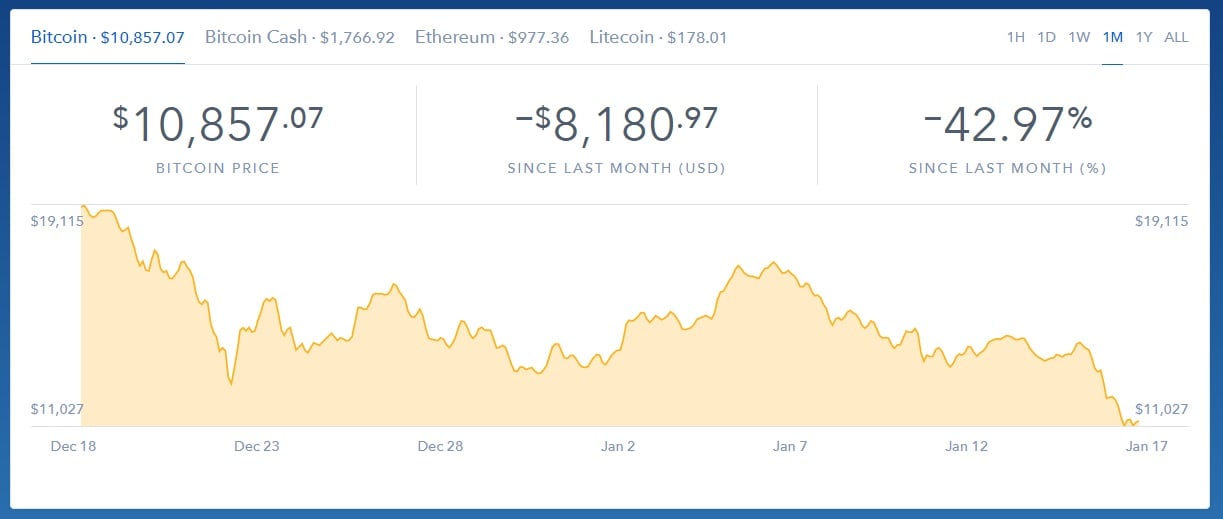 The price of Bitcoin for the last month. Image courtesy of CoinBase.
South Korean Finance Minister Kim Dong-Yeon said that a bill to ban all cryptocurrency trading was being considered. According to CoinTelegraph, such a ban may be held off if the South Korean government can remove the anonymity involved in cryptocurrency purchasing and trading.
It was this revelation that caused prices to drop, with UK newspapers like The Guardian and Metro reporting the losses experienced by currencies including Etherium, Ripple, LiteCoin and Tron.
Almost a month on from the record high for Bitcoin of $19,850 in the middle of December, the price of the world's most popular cryptocurrency is now down to just below $11,000, with Coinbase and CoinMarketCap both reporting widespread drops across the market of up to 40% loss of value.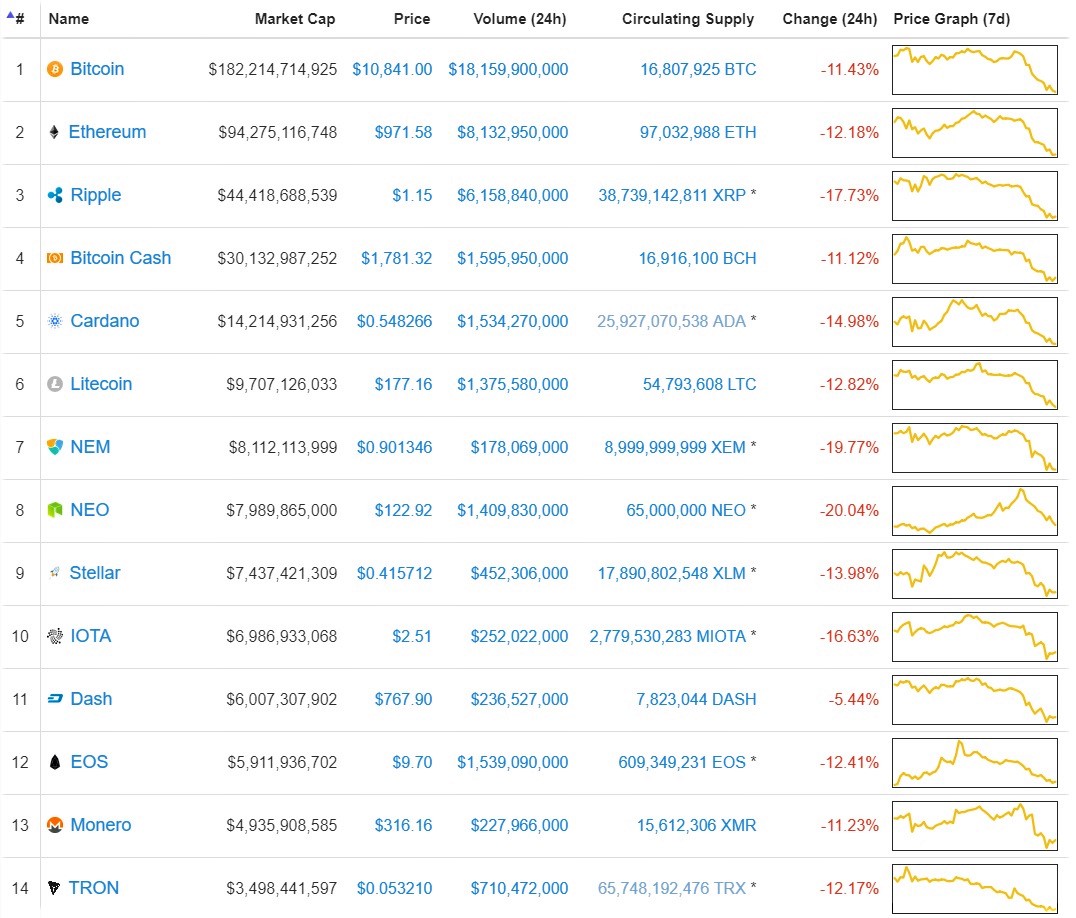 The top 14 cryptocurrencies at present and their losses. Screenshot courtesy of CoinMarketCap.
.
This isn't the first move a government has made against cryptos. China and South Korea both banned Initial Coin Offerings (ICOs) in 2017 due to fears over potential financial scams, and other nations are beginning to get on board with the need to account for cryptocurrencies as part of national regulations. The Bank of Indonesia has said in a press statement that cryptocurrencies will not be accepted as a form of payment anywhere within the country.
The Daily Express reports that the French finance minister Bruno Le Maire has enrolled a former central bank chief to draft up potential rules for cryptocurrencies, to protect investors against risk but also to stop cryptocurrencies being an outlet for tax evasion and financing illegal activities.
Joachim Wuermeling, a member of the board of Germany's Bundesbank, did offer a word of caution to nations seeking to implement regulation, suggesting that for cryptocurrencies to be truly pulled into line you would need exceptional levels of international cooperation - something that has been a little difficult in the past 18 months.