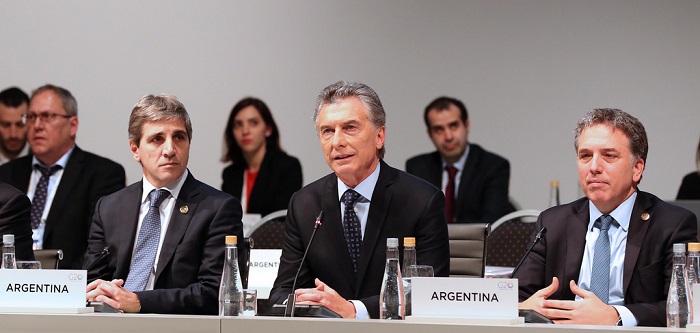 Luis Caputo, left, pictured with President Mauricio Macri (centre) and Finance Minister Nicolas Dujovne (right).
Luis Caputo resigned his position as Governor of the Central Bank of Argentina this week after a mere three months in the role. Caputo's resignation was unexpected and was announced to coincide with President Macri's appearance in New York ahead of a United Nations meeting.
The Argentine Peso fell by 7% against the US Dollar following the announcement, before recovering to a 4.65% loss as the news sunk in.
The decision to quit came ahead of this morning's news that the IMF would bailout Argentina's economy to the tune of $57.1 billion - described as "the biggest loan in the history of the IMF" by the IMF director, Christine Lagarde. Under the agreement, Argentina will receive funds over three years (of which it has had $15 billion immediately) and it comes with the strict condition of zero deficit by the end of 2019.
Many Argentine media outlets cite a disagreement between Caputo and Nicolas Dujovne, the country's Finance Minister, with suggestions that Caputo was not part of the IMF negotiation process for the bailout.
In a statement issued by the Central Bank: "This resignation is due to personal reasons, with the conviction that a new agreement with the International Monetary Fund will re-establish confidence in the fiscal, financial, monetary and exchange rate situation."
Argentina's economy is in tatters, with investors concerned by the lack of economic prospects and the large debts that the country has. The Peso has lost more than 50% value this year, with inflation approaching 40% and interest rates at 60%.
Paul Greer, Assistant Portfolio Manager at Fidelity International, said: "The timing could not be worse for Argentina. Caputo's resignation will only add to investor uncertainty."
There are currently nationwide strikes being orchestrated by unions at public transport hubs, as well as street marches against President Macri's dealings with the unpopular IMF, whom the public blame for Argentina's economic collapse in 2001 when no bailout was given despite pleas.
Following Caputo's resignation, President Macri's office issued a statement saying that Guido Sandleris, former Economic Policy Secretary, would take over as Governor. Sandleris is friends with Dujovne. He holds a doctorate in Economics from Columbia University, as well as degrees from the University of Buenos Aires and the London School of Economics. Sandleris' experience is mostly theory based, and many are concerned that a lack of experience coupled with the poisoned chalice of being governor could lead to another short stay tenure as leader of the Central Bank.
Last week Argentina announced that the economy had contracted by 4.2% in Q2. The last time the economy performed that poorly was in 2014. Drought has hurt Argentina's agricultural exports, which the government is arguing as the primary cause of the poor figures, rather than the market concerns over debt management.