Silver Jubilee Crown
1977 Crown
.
37,061,160 Silver Jubilee Crowns were minted in 1977 to celebrate the silver jubilee of Her Majesty, Queen Elizabeth II. The face value, which is not marked on the coin, was just 25 pence. This value belittles its impressive size of 38 mm by 3 mm however.
When referring to a 'silver' Jubilee Crown, the silver means the time frame of the anniversary, rather than the metal. The majority of these coins were composed of cupro-nickel, there were however a number of proof issues minted to the pre-1920 standard, in 92.5%, sterling silver. In this case the coin would be considered a somewhat confusingly named silver, 1977 silver Jubilee coin.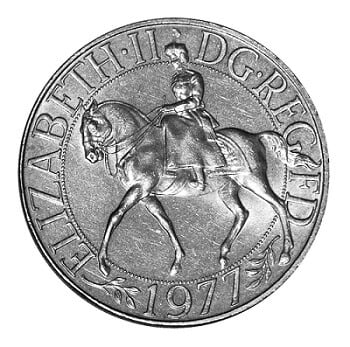 1977 Silver Jubilee Crown.
.
---
UK Crown coins
.
UK Crown coins have a long and complex history. Originally a common circulating currency coin, the Crown initially had a face value of five shillings; that is a quarter of a pound. After decimalisation on February 15th, 1971, this was converted to a face value of 25 pence.
Long before decimalisation, Crown coins had ceased to be circulating currency, and were issued as purely commemorative, or collectible numismatic coins. As such they had a value higher than their simple legal tender face value. In addition to the cupro-nickel Crowns, it was also usual to mint sterling silver proof versions, which would command an even higher value.
Half Crowns – worth one-eighth of a pound, or 12.5 pence – were far more common than Crowns and continued to be circulated as currency until 1970.
To further complicate its history, in 1990 the crown was re-tariffed from 25 pence to five pounds, with versions minted in gold. Today then, Crowns have a legal tender face value of £5, though their real numismatic and precious metal bullion value will be far higher.
.
---
Other Jubilee Crowns
.
As our longest serving monarch, Her Majesty Queen Elizabeth II, has two celebratory Crowns; the 1977 Silver Jubilee Crown and the 2002 Golden Jubilee Crown.
The Royal Mint issued the 22 carat Gold Jubilee Crown to celebrate the golden jubilee of Her Majesty Queen Elizabeth II. In keeping with the re-tariffing, this Crown, or Quintuple Sovereign, has a face value of £5.
.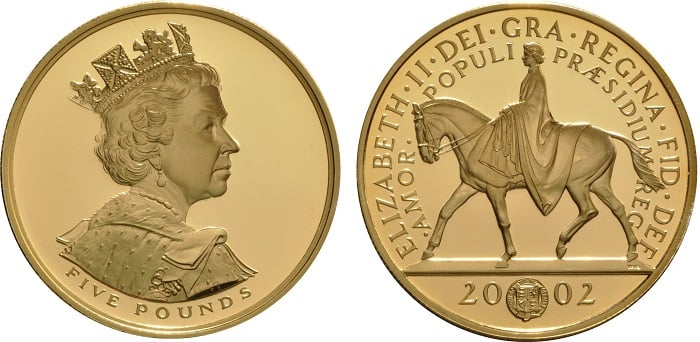 .
2002 - Gold Five Pound Proof, Golden Jubilee
.
---
Our second-longest serving monarch, Queen Victoria, did not celebrate her silver anniversary. At the time only 50th anniversaries were recognised events, and her 25th anniversary came just a few months after the death of her beloved husband, Prince Albert.
.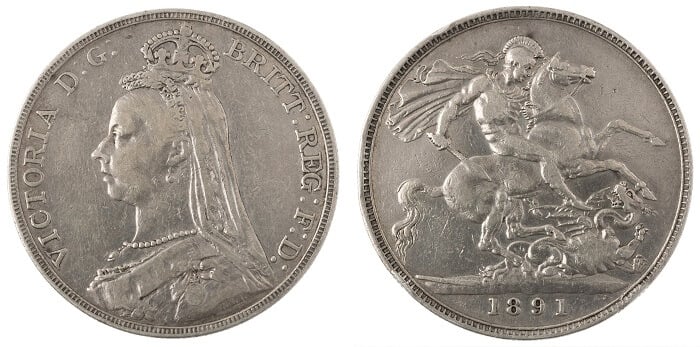 .
1891 Victoria Jubilee Head Crown
There are numerous silver crown coins from Victoria's reign referred to as 'Victoria Jubilee Head Crowns'. These date from after the 25th year of her reign and are named for the design of the Queen's head on the obverse of the coin. For example, the Jubilee Head Crowns have a different image that distinguishes them from earlier 'Young Head Crowns'. They are all sterling silver and, like Sovereigns, carry the famous St George and the Dragon design by Benedetto Pistrucci on the reverse.
These Victoria Crowns are highly regarded coins, and considered indispensable to good numismatic collections.