Cash for gold and silver
---
You can get hard cash for gold, or cash for silver, in almost every form - bars, coins, jewellery, trinkets, or scrap of any kind, even tooth filling! BullionByPost, however, do not accept unhallmarked items, gold plate, dust or grain and watches.
.
Bullion dealers BullionByPost buy gold and silver at the leading market rates. Plus, we make the whole process, easy and secure.
.
Selling gold
.
Simply view the prices from our Sell Gold & Silver lists or go to Scrap Gold Prices and get an online price for your items. Then, call us on 0121 634 8060 to lock your price based on the live spot price. Securely wrap your items and post them the same day to keep your price locked. We recommend using Royal Mail Special Delivery. Finally, provided we receive your items on time and as described, payments will be made by BACS and into your account within 3 working days. It is as simple as that: the money could be in your bank account the following day!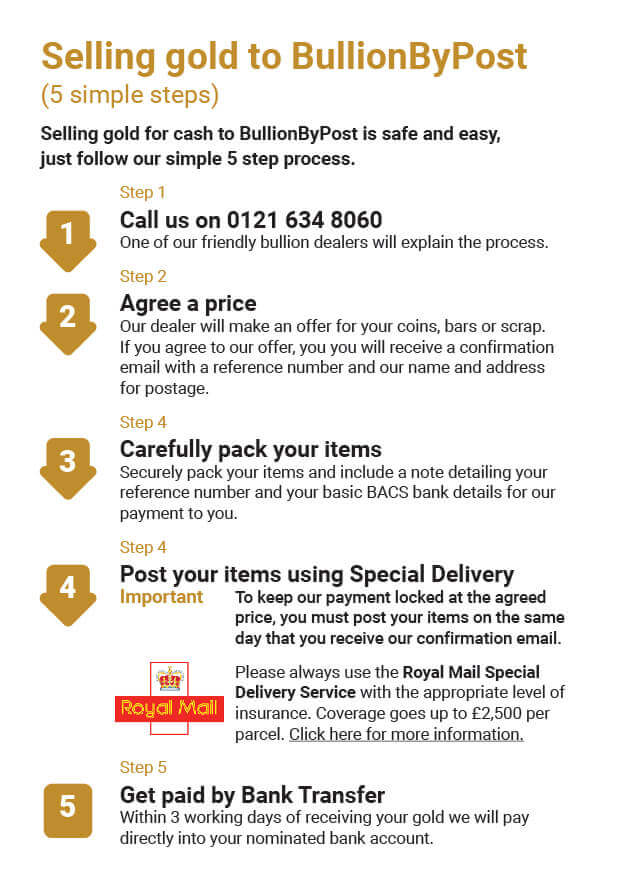 What is scrap gold worth?
.
We offer top prices based purely on the bullion market price of the metal: that is the the value of the metal once it has been melted down. You can see the current prices we are offering for scrap , coins and bars here.
.
For very rare, sought after jewellery, coins or other collectable items you may receive better prices from antique dealers, jewellers and coin collectors or numismatics. Furthermore, take into consideration that only 24 carat gold is pure gold. Below 24 carat, in order to strengthen it, gold has been mixed with other metals. Therefore, the total weight of your items will usually exceed the weight of gold you are selling. Also, we do not pay for any additional items, such as gems that may form part of jewellery.
.
To sell or not to sell?
Remember, like other commodities, gold prices fluctuate. No-one can foresee the future: by cashing in now, you may stand to lose or gain in the future! Nevertheless, gold jewellery, single cuff links, damaged silverware and other useless items can all have a cash value as bullion metals.