Tax-free investments
---
All investors set out with the intent of making the most of their money, and tax can be one of the quickest ways of seeing an investment's value plummet. Whether through income earned, or the sale of an asset, tax can see your money taken away. A tax-free investment is one of the easiest ways to make money, and British gold coins are one of the best tax-free investments out there.
.

.
---
Tax-Free investments UK
.
Income tax, stamp duty, VAT, and Capital Gains Tax (CGT) are some of the biggest reasons an investment doesn't earn as much as it could. Many landlords for example, are caught out when they realise they're required to pay tax on rental income, and the property itself when sold. Read more about gold versus a buy-to-let property investment.
One of the tax-free investment vehicles that is regularly mentioned is an ISA – of which there are numerous variations. The ISA is indeed tax-free, but the returns are regularly low enough to be outstripped by inflation, meaning in real terms your money could even be worth less than when you started. View our gold vs ISAs page for more information on why investing in an ISA could end up costing you money.
Pension schemes are also tax-free in many cases, but once again offer low returns, and come with restrictions on when the money can be taken out. Withdrawing investment money from a pension, before the agreed age, often incurs strict penalties.
Gold is the ultimate tax-free investment, with returns much higher than other tax-free investments in the UK. Excluding tax benefits, there are a number of reasons gold makes a good investment; read our gold investment guide for more information about why you should buy gold.
Although no one can be sure what will happen to the price of gold in the future, the return on investment for previous years is impressive, as shown below.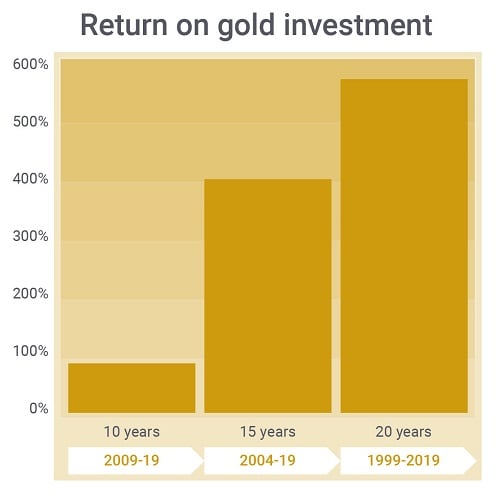 .
Investment gold has been VAT-free since 2000. For investors this a great way to start off an investment venture. A £10,000 gold investment, if subject to VAT would cost £12,000 (due to the current VAT rate of 20%). Fortunately, this is not the case and all £10,000 could be put towards the purchase.
Gold coins made by the Royal Mint are also CGT exempt, learn more about why gold coins are exempt from CGT. This means that gold coins also give you the maximum possible profits when sold. With the high returns gold has historically achieved, especially in long-term investments, CGT would be of particular concern to many investors if applicable.
If you're looking for tax-free investments look no further than UK gold coins, such as the examples below. BullionByPost is the UK's number one online bullion dealer, and over 20,000 customers are happy to recommend us.