Gold price analysis today
---
Traditional gold bullion investment is best suited to longer time frames; riding out the short term fluctuations in the price of gold, and taking advantage of the general trend upwards. Some investors, such as those who trade in the higher-risk gold ETFs, treat gold as a more speculative market and prefer to get a daily analysis for the gold price.
At BullionByPost we offer a number of tools to help our customers make decisions on when it is the right time to buy or sell, while also providing our own gold price analysis when appropriate. The hope is that our information and assistance will help you, the customer, make an educated decision when it comes to investing.
.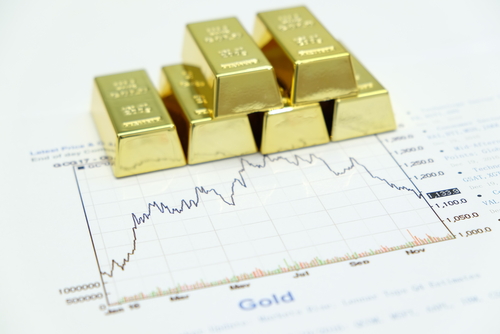 .
---
Gold technical analysis
.
The first place to check for our gold technical analysis is the BullionByPost gold news page. Here you will find news stories related to the gold price, supply and demand figures, political and legislative changes, the global economy, and interest pieces. With multiple posts weekly, or even daily, the gold news and analysis provided here will give you a good general overview of how gold is performing on any given day.
For customers who prefer to take a slightly less frequent approach to their gold price analysis, BullionByPost's newsletter can deliver concise news to your email inbox. These emails cover only the biggest news stories, and are generally delivered weekly – giving you the most important updates. Sign up to the BullionByPost newsletter from the homepage today.
We also publish our annual gold price forecasts to give an overview of what we predict for the price of gold for the coming year, based on our bullion industry expertise. These are updated periodically, as and when important information becomes available from trusted sources - such as the World Gold Council, International Monetary Fund, or Office for National Statistics, to name a few.
---
View the live Gold Price
.
If you would like to take a more proactive stance and do your own daily gold price analysis, there are two main drivers behind price changes: demand and currency fluctuations. Read more on what causes the gold price to fluctuate.
Regardless of whether the price has gone up or down, you can attempt to work out the cause of it by checking how the Pound Sterling is performing - particularly against the US Dollar. If the pound has become weaker against its rivals, then gold will usually increase in price in a local currency.
In cases where the price of gold increases but the pound is still performing well against the dollar, then this will usually point to demand increasing. One of the main causes for demand increasing is economic turmoil; when inflation increases or stock markets plummet. At this point investors will turn to gold as a safe-haven asset; a way of diversifying wealth into a market that historically performs when other assets don't and, in return, protects their money.
Today, gold price analysis can often centre around the political upheaval that is affecting global economies at large. In the UK, Brexit has had an ongoing negative impact on the economy, and a subsequent positive impact on the price of gold. For the latest Brexit news, view our Countdown to Brexit page.
Outside of the UK, the ongoing trade war between the US and China has also had significant impacts on global economies. The longer the Trump administration continue to punish China with tariff increases, and China retaliates, the worse this impact will be on currencies, boosting gold.
By keeping up to date with gold price analyses you can make informed decisions about when to protect your wealth.