Gold Prices 2017 – The year in review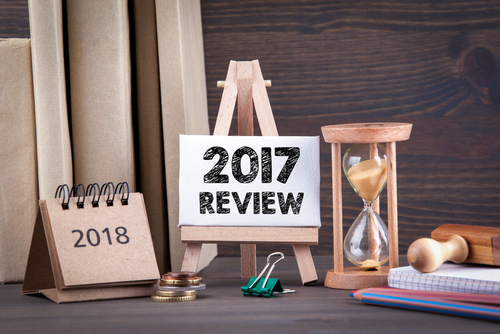 Q1: January – March
Prices in January started at £951 per ounce for gold, rising over 5% to peak at £1,003 by the middle of the month and settling back down at £943 per ounce – almost a 6% drop. A combination of President Trump's inauguration and the settlement between the US Department of Justice and Deutsche Bank (over the sale of toxic mortgage securities) led to a weakening of the dollar, and faith/demand switching over to gold mid-month, but inevitably when prices jump up people look to capitalise on this as a selling window, which drives prices back down.
February saw gold prices pushed up by the North Korean nuclear missile tests. The other big news was the UK Parliament voting to pass the Brexit Bill, and then one month later triggering Article 50 leave proceedings. Geopolitical tensions and market uncertainty about Brexit led to an increased demand for a strong insurance resource like gold. As a result, March trading prices were a lot tighter with gold selling between £996 and £1,013 per ounce.
Peak price: £1,013 (March). Quarterly price change: 4.7% price rise.
---
Q2: April – June
April brought with it the second highest gold price peak of the year at £1,025 per ounce. Further nuclear testing from North Korea, coupled with several terrorist attacks across the world, stoked fears and uncertainties, keeping prices high.
The election of President Macron was a low point for the price of gold, dropping to £944 per ounce while investors waited to see what political changes would be promised. The price rose back up again in June to £1,003 per ounce (a 6.25% price rise) with the UK General Election and the Conservative Party losing its majority, adding more insecurity to an already uncertain Brexit process.
Peak price: £1,025 (April). Quarterly price change: 4.02% price drop.
---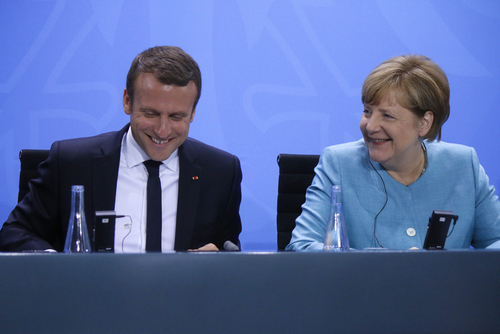 President Macron and Chancellor Merkel together at the G20 Summit in Hamburg
Q3: July – September
The G20 Summit met in Hamburg in July, bringing with it a lull in gold interest with prices at £938 per ounce while investors waited to hear the outcome of the talks. More nuclear missile testing from North Korea bolstered prices towards the end of the month at around £960 per ounce, and throughout August prices rose to a peak £1,014 an ounce – an 8.1% price rise from the start of July.
September was the most dramatic month of the year for gold, boasting the highest peak of 2017 due to a mix of the geopolitical strife caused by North Korean missile testing and a damning report from Goldman Sachs about the weakening of the US dollar as an asset.
Prices slowly dropped to between £955 (a 7.3% price drop) and £963 per ounce of gold by the end of September, perhaps influenced by the re-election of German Chancellor Angela Merkel.
Peak price: £1,030 (September). Quarterly price change: 1.15% price rise.
---
Q4: October - December
The end of 2017 saw gold prices fall further. October was the quietest month of the year with a tight price range between £956 to £981. In November the Bank of England raised interest rates in the UK for the first time in 10 years, as well as there being a surprise surge in value and demand for Bitcoin. Prices for the month started at £961 per ounce, rose to £980 per ounce (1.9% price rise) and then dropped to £948 per ounce – 1.4% down on prices at the start of the month but 3.3% down on the November peak price.
December continued the price boom for cryptocurrencies and the drop in gold price – reaching a low of £924 per ounce –was driven slightly harder by the US tax reforms passed in the Senate. Subsequent demand capitalising on the new low prices soon drove the gold price back up to £960 per ounce.
Peak price: £981 (October). Quarterly price change: 0.4% price rise.
2017 price change (Jan 1 – Dec 31): 0.94% price rise in Pound Sterling value.