Recession 2020
---
For investors, a recession can be one of the key economic indicators that could signal it is time diversify a portfolio with precious metals such as gold and silver. Although not explicitly linked, recessions generally cause the price of gold and silver to increase, while lowering the value of many traditional investments.
2019 saw many of the world's big economies (including Germany and the UK) narrowly avoid recession, but with France and Italy reporting negative growth in Q4, many investors are now wondering if wider recession is still a risk in 2020.
.
---
What is a recession?
A recession means that a country's economic output – Gross Domestic Product (GDP) – is negative, i.e. the country's economy is shrinking. GDP is measured monthly and reported monthly and quarterly, with the three-month period giving a better impression of economic trends. If a country has a smaller GDP figure - or negative growth - for two quarters (six months) in a row, then it is officially in recession.
Recessions are one of the main signs of an economy struggling, and the resulting uncertainty and worry sends investors away from high risk investments like stocks, towards safe havens like gold and silver. The increase in demand subsequently drives the price up higher, meaning gold and silver investments tend to perform well during a recession.
Fear of recession and fear of global conflict drove precious metal demand and record prices in 2019. A recession in 2020 then could suggest an even stronger year for gold and silver.
.
---
Will there be a recession in 2020?
.
Nobody can say for sure whether there will be a recession in 2020. A global economic recession is unlikely in 2020, with many countries implementing fiscal stimulus plans and diversifying their reserves to try and mitigate the effects of any global slowdown.
It is however almost certain that there will be recessions in various countries in 2020, and indeed some have already started the year in recession. Countries including Argentina, Iran, Mexico and Hong Kong were all in recession in 2019. As mentioned at the top of the page, the UK and Germany were also perilously close to recession at the end of 2019, and both only narrowly avoided it by reporting small growth for Q4.
.
| | | | | | | | | |
| --- | --- | --- | --- | --- | --- | --- | --- | --- |
| Country | Q1 2018 | Q2 2018 | Q3 2018 | Q4 2018 | Q1 2019 | Q2 2019 | Q3 2019 | Q4 2019 |
| UK | 0.1% | 0.5% | 0.6% | 0.3% | 0.6% | -0.2% | 0.3% | 0% |
| France | 0.2% | 0.2% | 0.3% | 0.5% | 0.3% | 0.4% | 0.3% | -0.1% |
| Germany | 0.1% | 0.4% | -0.1% | 0.2% | 0.5% | -0.2% | 0.1% | 0.1% |
| Italy | 0.1% | -0.1% | -0.1% | 0.1% | 0.1% | 0.1% | 0.1% | -0.3% |
| Turkey | 1.2% | -0.1 | -1.4% | -2.6% | 1.7% | 1% | 0.4% | 0.3% |
| Hong Kong | 1.9% | -0.3% | 0.1% | -0.3% | 0.9% | -0.4% | -3% | -0.4% |
| China | 1.5% | 1.8% | 1.6% | 1.5% | 1.4% | 1.6% | 1.4% | 1.5% |
| US | 2.5% | 3.5% | 2.9% | 1.1% | 3.1% | 2% | 2.1% | 2.1% |
| Mexico | 1.3% | -0.2% | 0.4% | -0.1% | -0.1% | -0.1% | 0 | 0 |
| Argentina | 0% | -5% | -0.2% | -1.2% | -0.1% | -0.7% | 0.9% | N/A |
Table showing the quarterly GDP figures for a range of countries. Please note that some countries have not reported their Q4 2019 figures yet, so forecasts have been used in these cases.
.
Many had hoped a breakthrough in the US-China trade war, as well as Brexit, would help lift some of these ailing economies out of recession at the start of 2020, but there has been little good news so far.
The Eurozone economy grew by only 0.1% in Q4 2019, putting it on the edge of contracting. This in particular was weighed down by France and Italy whose economies both shrank, at -0.1% and -0.3% respectively. While France is expected to pull back from this GDP negative (due to strike action at present), Italy is of far more concern to the European Central Bank and wider Eurozone; a coalition government, a distrust of the ECB, and the largest debts in Europe make it a very fragile economy.
.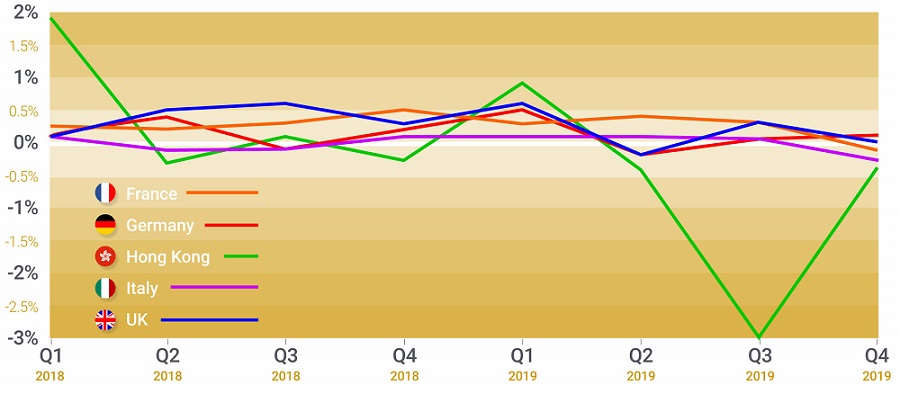 .
Hong Kong has been in a recession for months as a result of civil unrest and protests. The arrival of the new coronavirus in China is expected to make things worse for Hong Kong for at least the next few weeks. Much of China has been shut down, and travel between the two neighbouring countries is severely restricted. With the number of cases growing, there could be more restrictions to come, worsening the impact on the economies of both China and Hong Kong, but as one of the strongest economies in the world (based on GDP growth), it would be very surprising to see China enter recession.
.
---
2020 recession
.
A 2020 recession in at least some of the world's largest economies also seems likely. Italy has been in and out of recession repeatedly in the past few years, and a 0.3% drop will be difficult to turn around by the next quarter.
France has been struggling with civil unrest and strikes on the back of pension reform, on top of the slowdown in manufacturing caused by the US/China trade war. At just - 0.1% for Q4, it is possible this could turn around, but many of the causes for the contraction do remain and could take France officially into recession in 2020.
.
The UK:
Forecasts put the UK at stagnation for Q4 of 2019, meaning no growth but no contraction either. With the general election result in mid-December, there was little time for the Conservative win to impact the UK economy. Markets are hoping for a 'Boris bounce'; based on increased business confidence gained from the clarification on Brexit, and the newfound majority in the House of Commons for the Conservatives to push on with legislation.
Any signs of a 'Boris bounce' have been few and far between however; many businesses are still worried about the future trade agreement between the EU and UK, and what impact that could have on their supply lines and logistics. Brexit is forecast to cost the UK economy no matter how good a deal is agreed, so it would not take much to turn the current stagnation into recession.
.
The US:
Although "phase one" of the US/China trade war has been agreed and signed, this only covered a small portion of the issues between the two. President Trump has been very casual about when "phase two" could take place. His focus this year is on the US presidential elections to be held in November, and could mean the trade tariffs will continue for the entirety of 2020.
Last year saw worrying indicators of recession such as the temporary spike in repo rates, but in particular, the inversion of the bond yield curve back in August. Although not guaranteed, many analysts noted that this inversion usually preceded a recession - typically within a year on average. This then could suggest the clock is ticking on the US economy, counter to the recent all-time highs in the stock market.
The US economy has been strong in recent years but did see some decline in 2019, dropping from growth of 3.1% in Q1 2019 to 2.1% by the end of the year. Manufacturing PMIs in America have suggested that output is slowing, and the tariffs are key to this. Despite Trump's claims that China has given billion to the US, it is American companies paying tariffs on Chinese imports. The trade war has already crippled the US solar power industry, and prolonged disagreement risks increasing unemployment, lowering tax income, and lowering economic output for many countries beyond the two main players.
.
The EU:
The Eurozone is also at risk, with some of its biggest economic members – such as France, Italy and Germany – all contributing to a potential recession in 2020 across the Eurozone. The overall 0.1% growth for Q4 of 2019 was the Eurozone's worst since 2013. Brexit is not limited to the UK and is having an effect on Europe too, with businesses uncertain whether British trading partners will still be as easy to access by the end of the year.
With China shutdown on account of the coronavirus, this could have a significant impact on the car industry in Europe, of which China is a major customer. Germany in particular could fall back into recession if its car industry suffers any further drop in orders.
Fiscal stimulus packages may help mitigate the impact of the issues currently dragging markets down, and could mean that stagnation rather than recession will be the main theme for 2020. If unknown factors such as conflict and coronavirus continue to shock markets however, then the risk of recession looks set to continue – if not grow – in 2020.
With such a weak economic outlook however, 2020 could be the ideal time to diversify your portfolio, and protect your wealth by buying gold and silver in 2020.
.