PAMP - Produits Artistiques Métaux Précieux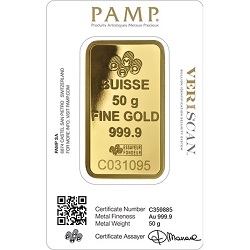 PAMP Suisse, more formally known as Produits Artistiques Métaux Précieux, are a Swiss gold, silver and platinum bullion refiner. They are best known for their artistic license and fashionable imagery produced
onto many of their products – specifically the Lady Fortuna and the Rosa designs.
PAMP were the first refiner to be able to achieve design work on their bars and also the first company to
offer sealed bullion for protection purposes; levels of innovation that have built them one of the strongest reputations for bullion quality in the world.
.
Customers can find BullionByPost listed as an official PAMP supplier on the PAMP Suisse website. Simply
click this link, select Europe and then select the UK, and scroll down the page to see our listing.
.
Background: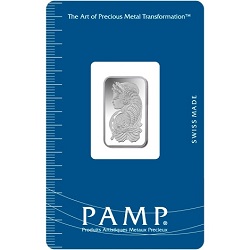 PAMP began operations in 1977 and still to this day operates out of its headquarters in Castel San Pietro in Ticino, Switzerland. The company started up offering small sized bars only, as well as operating as an alloy specialist for luxury watches and jewellery – deliberately rivalling the previous dominance of fellow Swiss refiners Metalor.
To date PAMP is responsible for over half of the bought gold bullion bars under 50g in weight worldwide.
.
What do we sell?
We sell gold, silver, platinum and palladium from PAMP. Sizes are mostly smaller than 50 grams, going as
small as 1g weight, but we also stock larger PAMP bars too – up to 1KG in silver and 10oz in gold.
To see our broad range of PAMP Suisse gold and silver for sale, click here.
.
Quality:
As with all bullion stocked at BullionByPost, PAMP Suisse are an LBMA (London Bullion
Market Association) accredited refiner of gold, silver, and platinum. As such the company
has both LBMA and LPPM membership – the latter being a specific accreditation for
Platinum and Palladium producers.
PAMP are also recognised by the Swiss National Bank and the Shanghai Gold Exchange
as being a reputable precious metals company.
New LBMA rules as of March 1st, 2019 mean that all cast gold 400oz bars and cast silver
1000oz bars have to display a four-digit date of month and year. PAMP have gone one step
further, and all of their cast gold and silver bars will feature this date stamp (see the official
photograph to the right). In addition, all certificates of bars produced by PAMP after this date
will bear a QR Code for verification purposes.
.
Responsible Refining:
Switzerland is known for stringent environmental protection laws, so it's no surprise that PAMP
Suisse has an excellent reputation for minimal pollution or waste.
PAMP's refinery has operated on hydroelectric power since 2016 and has recently signed a deal
to only be supplied by this energy source through to 2020.
.
---