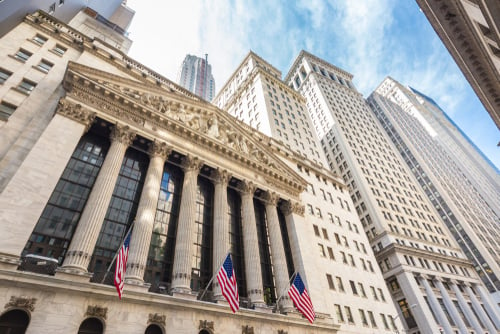 The US stock markets experienced a sharp drop in share value on Monday as shares in tech giant Apple dropped by 5%, with the Dow Jones losing 2.3% (601 points) and the Nasdaq – a tech specialist market – losing 2.8% share value.
The strong US Dollar is also hindering stock market strength, with investors keen on the currency and Treasury Bonds as safety options in the event of any future turbulence caused by the economic slowdown in Europe or the trade war with China. There is also a secondary effect that a strong Dollar is making US goods, such as those made by Apple, too expensive for foreign markets, and is softening consumer confidence.
The latest data shows that over 70% of the technology sector is in correction territory aka more than 10% down from their peaks this year. Several of Apple's suppliers – most notably Lumentum Holdings – cut forecasts for output and profits, with Lumentum's shares down by 33% on Monday.
The response this morning was a slump in the Asian markets too, with Japan's Nikkei down2.2%, Korea's market down 0.84%, the Hong Kong exchange down 1.5%, and Shanghai down 0.5%. Excluding Japan, stocks in Asia have fallen by around 17% since the start of 2018 – a sharp contrast to the 33.5% gain made in 2017. Analysts are attributing this to the US/China trade war having a knock-on effect for supply and demand.
.
The Buyer's Boost:
Since the inauguration of President Trump and his enactment of tax cuts for the wealthiest in the US, the stock markets have rapidly grown - $6.6 trillion gained in market value in 14 months of Trump's presidency compared to around $13 trillion in the eight years of President Obama's tenure.
The latest figures mean that the US markets have erased all gains made after the results for the US mid-term elections were announced - an outcome which President Trump decried as harassment by the Democrats.
.
Not so sound: Music firm Spotify finally makes a profit, but share price is still tumbling
Swedish music platform Spotify finally registered a profit for the first time in its existence this year, claiming €43 million between July and September, but unusually, senior figures in the company weren't happy with the profits, citing the loss of 10 senior executives this year and a hindrance of their R&D work as the reason for less investment expenditure and the accidental profit margin.
Spotify boasted a $27 billion valuation in April, before climbing to $35.3 billion in late July, but is now worth less than $24 billion. At the end of trading yesterday (November 12th) the company share price was $131.31 – down 4.89% from Friday's close.
The company has reported a reduced operating loss of just €6 million per year – a 92% improvement compared with the previous 12 months – but a share price depreciation of 36.46% since late July, with additional downgrades from JP Morgan Chase, Barclays, and Wells Fargo is making investors nervous; many of whom now see Spotify's debt-heavy growth as verging on reckless.
To combat this the company announced a share buy-back scheme on November 5th, set to run now until April 21, 2021. The program, which will see Spotify buy back up to 10 million shares, is valued at $1 billion and the hope is that the vote of self-confidence to invest in themselves will alleviate the concerns of investors that Spotify lacks any long-term growth potential, especially in such a competitive environment when rivalled by Apple Music, Amazon Music, YouTube Music, and a recent deal between Sirius XM and Pandora.
This year there have been $1 trillion in share buy backs in the US – the equivalent of 3% of the total US market value. Stats firm TrimTabs reported that $241.1 billion shares were bought back between January and March, and a further $433.6 billion between April and June. To hit the trillion Dollar value means that since July $324.3 billion or more shares have been bought back.