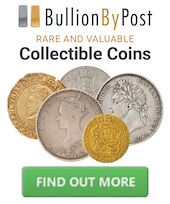 Delivery Options
---
At BullionByPost we dispatch our customer orders with the Royal Mail or the UPS courier service. We deliver all over the UK, as well as shipping to the Channel Islands of Jersey and Guernsey. Listed below are the delivery options and upgrades available across the two services, and how to qualify.
Please note that the cut-off point for deliveries to be sent out for the next day via Royal Mail is 2pm. For UPS details, scroll down.
.

.
Automated emails confirming the dispatch of your order(s) are typically sent between 5:30pm and 6:15pm. For further information about delivery options, please call 0121 634 8060 to speak to our customer services team, or email them at [email protected]
---
Delivery Options & Estimated Delivery Times
Please select your delivery country below to determine estimated delivery times and any additional information.
| Delivery option | Courier | Value limit | Weight limit | Estimated timeframe | Cost |
| --- | --- | --- | --- | --- | --- |
Please note: Orders placed on a Friday that qualify for Next (Working) Day Delivery may be received on either Saturday or Monday, depending on your local postal service. For customers based in areas such as the Scottish Highlands, the Outer Hebrides, and other rural or remote areas, it may take longer to receive your order due to transport logistics.
---
UPS
Orders heavier than 1.8 KG will be sent via the UPS courier service. Typically this service is primarily used for ordering large quantities of silver that surpass the weight limit for the Royal Mail but not the value limit of our insurance.
For orders above the 1.8 KG limit we need to have received your funds by 1pm in order to guarantee next day delivery. Please note that UPS will deliver any time between 8am and 8pm.
---
Related Information:
Payment Options | Accepted Debit & Credit Cards | How to Buy | Guide to Buying Gold | Buy Gold Online
---
Send us an email and we will get
back to you as soon as possible.
Monday - Sunday, 7am - 10pm
Customer Services available
9am - 6pm weekdays.
Answering service available outside
these times and at weekends.