SALE: 3% off everything*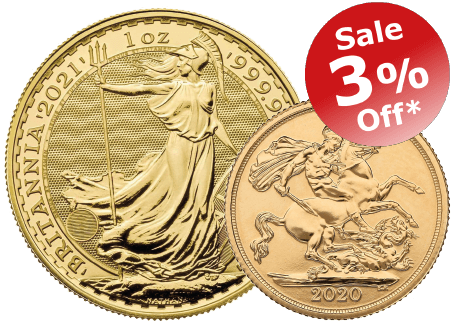 Prices cut on thousands of products. All orders include free insured delivery.
Shop Gold Coins
How To Buy Gold
The ultimate guide to investing in Gold

Read Investment Guide
Gold Sovereigns - India
---
Production of Gold Sovereigns only lasted for one year in India - 1918. During these 12 months the refinery minted nearly 1.3 million of these gold coins for circulation throughout the British Empire and Commonwealth nations.
Browse our full range of Collectable Coins or our selection of present-day Gold Sovereigns. For more information or any assistance call us on 0121 634 8060 or email us at [email protected]
---
---
Coins produced at the Bombay Mint in India bore the letter I above the date on the reverse side of the coin, and featured the portrait of King George V on the obverse (front).
The Indian Mint was granted permission to produce commemorative editions of the coin in 2013 and 2014, and again more recently in 2018 and 2019. Click here for more information about Sovereign Mint Marks.
Find out more about us with an information pack sent direct to you through the post.