Gold Production by Country
Gold Production:
When talking about gold production, we are primarily talking about gold mining; which country has the highest output of gold ore from their mines. This output is specifically within the home nation, and not including investments in foreign nations through a multinational corporation.
Many of these countries will have their own authorised and accredited refineries or mints to produce a range of bullion or doré (gold/silver mix) bars and coins for resale. This could be to national banks to form part of a nation's precious metal reserves, or it could be to the wider public market, but this isn't considered part of their overall gold production. More about Gold Mining.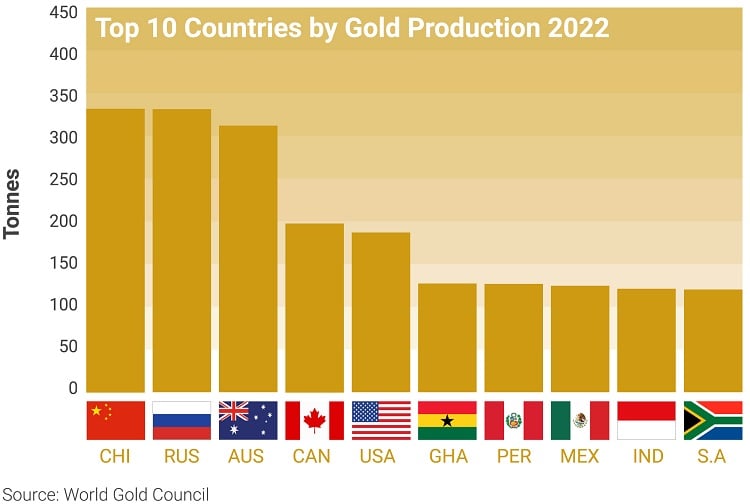 For a more detailed breakdown of the data, please visit the World Gold Council website.

---
Top 10 Gold Producing Countries
The following rankings for the top 10 gold producers are based on data published by the World Gold Council.
Please note that this data is issued on an annual basis, usually shortly after the beginning of the new financial year. Amendments will be made to this page as and when new mining data becomes available.



10) SOUTH AFRICA – 113.6 tonnes
It has been a few years since South Africa made the top gold producers list. In 2018 the nation reported 129.8 tonnes of gold produced, but for 2021 it was a little less at 113.6 tonnes. Given the impact of Covid and electricity supplier issues across the nation causing intermittent blackouts, this is not really much of a surprise - and certainly not the fault of South Africa's mining industry.
South Africa is one of the most notable gold mining nations in the world in fact. The country boasts the world's largest gold resource in the form of the Witwatersrand Basin, but in the past decade it has been surpassed by several nations for output.
At one time, South Africa was responsible for 15% of the world's gold. That figure is now around 4% of the global total. Back in 2018 the S&P forecast it reducing even further - to 122.8 tonnes by 2024 - but that was pre-pandemic and evidently the fall has been more significant, though the fact there has been a bounce-back is good news.
The Rand Refinery is South Africa's best-known gold refiner, and the site – formerly a Royal Mint location – operated just outside the capital of Johannesburg, producing gold bullion coins primarily.
9) INDONESIA – 117.5 tonnes
Indonesia holds its place in the top 10 gold producers in the world. Gold output in the country rose in 2018 to 153 tonnes to pass the country's 2010 record, and earned them 7th spot in the top 10, but 2019's performance slipped back to just 92.3 tonnes and saw them fall out of the top spots amidst hot competition.
2020 was an odd year considering Covid-19 and Indonesia - with its established mines such as the Grasberg (pictured below) - managed to reclaim a spot in the top 10 with 100.9 tonnes of gold produced. Production ramped up again to 117.5 for 2021.
The world's largest gold mine - the Grasberg Mine in Papua, Indonesia. Photo courtesy of Richard Jones & Flickr (Creative Commons license).
8) MEXICO – 124.5 tonnes
Mexico's gold production has been a rollercoaster ride for the past few years. 2017 was a decline, 2018 was a decline, 2019 saw an upswing in production, and then 2020 meant pandemic impact and massive production reduction.
101.6 tonnes of gold for 2020 has swung back once again though as Mexico jumps to 124.5 tonnes of gold produced in 2021. S&P Global Market Intelligence had forecast a drop in the next five years to 101.73 tonnes, which did prove highly accurate, but the nation has rebounded and is making the right moves.
The Central American nation is better known for its silver mining, but it has a long history of producing gold, stretching back over 500 years. Mexico's future has potential – IF the country can curtail gang-related problems. Precious metal miners in the region have been subject to armed robberies and kidnappings, amongst other threats and challenges, but with modern mining technology opening up new avenues of wealth for the country, Mexico might find it cannot afford to miss out on expanding its mining operations.
7) PERU – 127.3 tonnes
Down from 158.4 tonnes produced in 2020, Peru still holds a solid position in the top 10 list - just falling by one position. This may be a continuing trend though; Peru's economy had been improving slightly in the run up to the pandemic, which ties in with the very fractional increase in gold production between 2016 and 2017, but the past two year's figures show consecutive falls in output.
Peru is an unusual country. It has reliable precious metal reserves but unfortunately, due to its elevation, it is difficult to get machinery to the necessary sites but also to get the staff to the area. Even then, the altitude of some locations brings about difficulties with a lack of oxygen and subsequent fatigue.
6)

GHANA – 129.2 tonnes
With the return of South Africa to the top 10 gold producers list, Ghana is no longer the sole representative of Africa. Production fell off from 142.4 tonnes to 130.5, rose to 138.7 tonnes last year, and has now fallen again to 129.2 tonnes.
Ghana is famously part of the Gold Coast region of Africa. The British knew about the gold-rich environment in Western Africa long before this, and with their colonial exploitation they mined nearby Guinea for vast quantities of gold ore. Modern production is funded by a range of international mining firms, most notably from Russia and China.
Ghana's production has been incredibly consistent, and their gold mining in the early 1990s accounted for over 20% of the world's supply. Production as a percentage has fallen off over time as other nations ramped up their output, but Ghana continues to be a world leader in gold production.
5) UNITED STATES – 186.8 tonnes
The US boasts three of the top 10 largest gold mines in the world – Carlin, Goldstrike, and Cortez. These are still significant mining sites today but, despite their size, national production is falling.
US gold output shot up from 229.1 tonnes in 2016 to 243.6 tonnes in 2017 but since then there has been a steady fall backwards in mining. 2018's figure of 210 tonnes took America back to 2014 levels to the surprise of many, but 2019's 200.2 tonnes was a gold output low not seen since 1987 - 34 years ago. 2020 was another fall as the pandemic hit, dropping to 190.2 tonnes of output, and the figures for 2021 show a continuing trend - now down to 186.8 tonnes.
US mining firms are still eager to bounce back from the pandemic and up production as quickly as possible, but with growing support for unions and strike action in the face of inflation ramping up the cost of living it might be a while for the States to get back on track.
4) CANADA –

192.9

tonnes
189 tonnes became 186.8 tonnes became 170.6 tonnes... but now Canada has come out swinging in the gold market. Production is up to 192.9 tonnes for 2021 after three years of declines, with the North American nation succeeding where the USA and others are not.
Canada is famous for dairy farming, timber, and mining. In 2014, the country caught up with South Africa for gold production and a year later it was ahead. 2019 saw a 6.1 tonne drop in output however, which went against S&P Global Market Intelligence and their mining forecasts that Canada, like Russia, will increase gold production rapidly each year until 2023.
With Covid-19 massively hindering mining in 2020, it seems unlikely that Canadian gold output will reach the 300 tonnes suggested by 2024, but certainly 200 tonnes is well within reach for 2022.
Investors and collectors will probably best know Canada for its production of Maple coins. These are available in gold, silver, and platinum, and are produced at the Canadian Mint's headquarters in Ottawa.
3) AUSTRALIA – 315.1 tonnes
Even with a fall of 12.7 tonnes in output for 2021, Australia's position as one of the Big Three gold producers globally remains untouched.
Interestingly, Australia added 2.7 tonnes onto its 2019 total production: not bad considering Covid, and surpassing what was a new gold output record in 2019 of 325.1 tonnes (though this was admittedly below the forecasted 332.8 tonnes). Some analysts point to issues with supply chains, whilst others cite La Niña's impact for the past two years causing summer floods across the country.
Historically the British took advantage of Australia's resources and established Royal Mint branches in Sydney, Melbourne and Perth, and the latter is now the official bullion refiner for the whole of Australia – reporting to the regional government of Western Australia.
2) RUSSIA – 330.9 tonnes
Russia managed to leapfrog Australia in 2019, with gold mining output growing from 297.3 tonnes to 329.5 - an increase of 32.2 tonnes (9.78%). In 2020, Russia maintained its position AND increased production to 331.1 tonnes despite Covid. In 2021 though Russia finally experienced a decline - albeit a minor slip to 330.9 tonnes of gold output.
Russia's position is not surprising, given the country accounts for around 15% of the world's total mineral production, though the country has been in the news more for its invasion of Ukraine since February than any issues such as its near-monopoly on palladium or desire to replace the nation's reserves with gold rather than US Dollar.
The Largest Producer of Gold

And the number one spot as the world's largest producer of gold goes to…


1) CHINA – 332 tonnes
Unsurprisingly China is both number one producer of gold in the world, but production has fallen. As the likely origin point of Covid-19, China's government has taken a strict approach to Covid, even to the point of locking specific cities down under curfew and enforced testing. This on top of the country's anti-pollution laws hitting smaller miners and refiners is a nasty knock to Chinese exports.
Output for 2021 was 332 tonnes, down from 368.3 tonnes, and decline has been on the cards for a while; down from 401.1 tonnes to 383.2 tonnes in 2019, down again by another 14.9 tonnes in 2020, and larger 36.3 tonnes in 2021.
China overtook South Africa as the world's largest producer of gold in 2007 and hasn't been surpassed since, though some argue that China's dominance is due to involvement in gold mines in African nations such as Tanzania, and that their gold output is being counted directly as Chinese rather than other nations.
Like Russia, China's disputes with the United States of America (most notably the trade war under President Trump) have seen economic turbulence. The country is looking to switch from US Dollar-backed reserves, and BullionByPost reported how China has begun to add to its national gold reserves since December 2018 – after two years of not buying and almost two decades of giving little to no information on the nation's gold reserves.
China is also the world's largest consumer of gold, though considering it is the most populated country in the world that shouldn't be too much of a surprise.