Gold Production by Country
---
Gold Production:



.
When talking about gold production, we are primarily talking about gold mining; which country has the highest output of gold ore from their mines. This output is specifically within the home nation, and not including investments in foreign nations through a multinational corporation.
Many of these countries will have their own authorised and accredited refineries or mints to produce a range of bullion or doré (gold/silver mix) bars and coins for resale. This could be to national banks to form part of a nation's precious metal reserves, or it could be to the wider public market, but this isn't considered part of their overall gold production. Click here to learn more about Gold Mining.
.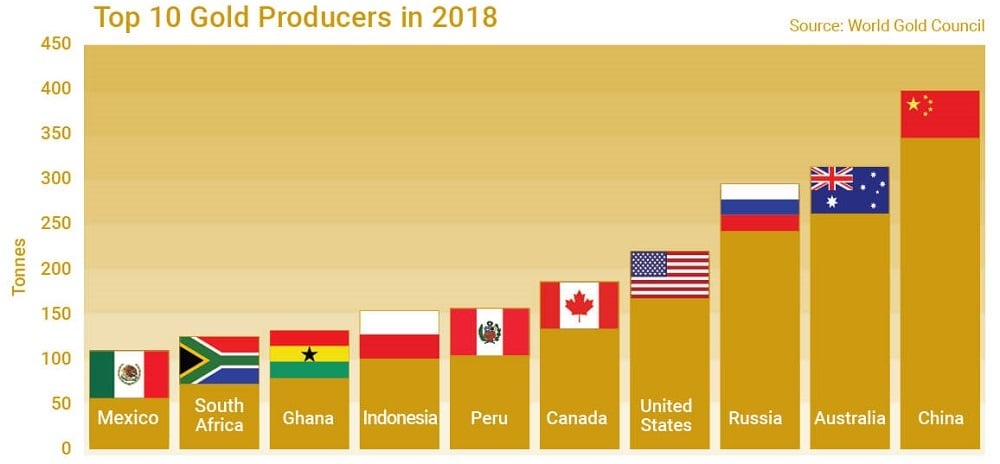 .
Top 10 Gold Producing Countries

.
The following rankings for the top 10 gold producers are based on data published by the combined efforts of Metals Focus and the World Gold Council in April 2018.
This data is issued on an annual basis, usually shortly after the beginning of the new financial year. Amendments will be made to this page as and when new mining data becomes available.
.
10) MEXICO – 115.4 tonnes
Mexico's gold output in 2018 was down from 122.4 tonnes in 2017, with S&P Global Market Intelligence forecasting a drop in the next five years to 101.73 tonnes.
The Central American nation is better known for its silver mining, but it has a long history of producing gold, stretching back over 500 years. Output in 2017 was down on the 2016 level of 128.4 tonnes of gold, but Mexico's future has potential – IF the country can curtail gang-related problems. Precious metal miners in the region have been subject to armed robberies and kidnappings, amongst other threats and challenges, but with modern mining technology opening up new avenues of wealth for the country, Mexico might find it cannot afford to miss out on expanding its mining operations.
.
.
9) SOUTH AFRICA – 129.8 tonnes
South Africa is one of the most notable gold mining nations in the world, but its gold production is slowing down fast. The country boasts the world's largest gold resource in the form of the Witwatersrand Basin, but in the past decade it has been surpassed by several nations for output.
Gold makes up a huge part of the economy, but political and economic uncertainty have played their part in stalling South Africa's gold industry, and despite the best efforts of the Minerals Council, South Africa is still struggling. Output of gold was down in 2017 from 162.8 tonnes in 2016, and has fallen again in 2018.
At one time, South Africa was responsible for 15% of the world's gold. That figure is now around 4% of the global total, and S&P's forecast sees it reducing even further - to 122.8 tonnes by 2024.
The Rand Refinery is South Africa's best-known gold refiner, and the site – formerly a Royal Mint location – operated just outside the capital of Johannesburg, producing gold bullion coins primarily.
.
.
8) GHANA – 130.5 tonnes
Ghana is famously part of the Gold Coast region of Africa. Gold mining in the early 1990s accounted for over 20% of the world's supply. Ghana's production is incredibly consistent, with the West African nation adding a mere 0.4 tonnes to its output compared to 2017, and 0.9 tonnes less than 2016.
The British knew about the gold-rich environment in Western Africa long before this, and with their colonial exploitation they mined nearby Guinea for vast quantities of gold ore. Modern production is funded by a range of international mining firms, most notably from Russia and China.
.
7) INDONESIA – 136.9 tonnes
Indonesia's gold output rose in 2018 to finally surpass the 2010 total of 134.6 tonnes, and the 22-tonne gain from the previous year has resulted in Indonesia climbing three places to seventh in the list of gold producers.
The country produced 109 tonnes in 2016, and is home to the world's largest gold mine – the Grasberg Mine. By coincidence, it is also the world's second-largest copper mine. The site is responsible for half of all Indonesia's gold produced.
Output has previously been hindered by the Free Papua movement; a liberation or independence group which seeks Papua – an eastern province in Indonesia – to be free from ties to Indonesia like its next door neighbours, Papua New Guinea.

The world's largest gold mine - the Grasberg Mine in Papua, Indonesia. Photo courtesy of Richard Jones & Flickr (Creative Commons license).
.
6) PERU – 158.4 tonnes
Peru is an unusual country. It has reliable precious metal reserves but unfortunately, due to its elevation, it is difficult to get machinery to the necessary sites but also to get the staff to the area. Even then, the altitude of some locations brings about difficulties with a lack of oxygen and subsequent fatigue.
Economically, Peru's economy has been improving slightly over the past two or three years, which ties in with the very fractional increase in gold production between 2016 and 2017, but the latest figures detail a slight fall to 158.4 tonnes.
.
5) CANADA – 189 tonnes
Canada is famous for dairy farming, timber, and mining, and the latter of these three is going from strength to strength. In 2014, the country caught up with South Africa for gold production, and a year later it was ahead. Canada reported 163.1 tonnes of gold in 2016 and added another 8.1 tonnes in 2017, before surging forward with the 17.8 tonnes extra in 2018.
S&P Global Market Intelligence predicts that Canada, alongside Russia, will increase gold production rapidly in the next five years, and estimates Canadian gold output to reach around 300 tonnes by 2024.
Investors and collectors will probably best know Canada for its production of Maple coins. These are available in gold, silver, and platinum, and are produced at the Canadian Mint's headquarters in Ottawa.
.
.
4) UNITED STATES – 210 to 221.7 tonnes
The US Government was the first of the top 10 gold producing countries to publish its data for 2018. US gold output was up from 229.1 tonnes in 2016 to 243.6 tonnes in 2017, so the figure of 210 tonnes is down quite sharply – back to 2014 levels.
This figure is contested. The US government states its gold output was 210 tonnes, while the WGC believes it is slightly higher at 221.7 tonnes. Either way, it is believed that the weak US Dollar hurt the spending power of mining companies in the first half of 2018, though some damage was mitigated with the Dollar strengthening as the year went on.
As of 2014/2015, the US had three of the top 10 largest gold mines in the world – Carlin, Goldstrike, and Cortez, and these are still significant mining sites today.
.
.
3) RUSSIA – 297.3 tonnes
Russia's position is not surprising, given the country accounts for around 15% of the world's total mineral production, though the country has been in the news more for its near-monopoly on palladium (and the subsequent short-supply price bubble) rather than its gold output.
There are many gold mines operational across the world's largest country, and with President Putin's goal of replacing the nation's reserves with gold rather than US Dollar, growing the gold mining sector is a no-brainer for the Russian premier.
Gold output was up in 2017 from a total of 253.2 tonnes in 2016, and is up again for 2018 by 25 tonnes compared to 2017.
.
2) AUSTRALIA – 317 tonnes
Australia set a new gold output record in 2018 with 317 tonnes of the precious metal produced. The previous record of 314 tonnes was set in 1997, but the forecast for 2019 is an impressive 332.8 tonnes.
The British historically took advantage of Australia's resources and established Royal Mint branches in Sydney, Melbourne and Perth, and the latter is now the official bullion refiner for the whole of Australia – reporting to the regional government of Western Australia.
Analysts like S&P fear Australia may be running low on resources in the next few years however, and forecast a potential drop to 197 tonnes output and a slide down the top 10 gold producers list.
Gold output rose slightly between 2016 and 2017 – up from 287.7 tonnes – but enjoyed a much sharper increase in gold production for 2018, coinciding with rising gold prices.
.
.
The Largest Producer of Gold


.
And the number one spot as the world's largest producer of gold goes to…
1) CHINA – 401.1 tonnes
China is both the world's largest producer of gold and the world's largest consumer of gold, though considering it is the most populated country in the world it shouldn't be too much of a surprise that it wins on the gold demand front. Some argue that China's dominance is due to involvement in gold mines in nations like Tanzania and Ghana, and that their gold output is being counted directly as Chinese rather than for those specific nations.
China overtook South Africa as the world's largest producer of gold in 2007 and hasn't been surpassed since. China's gold production in 2017 was significantly down on its 2016 figure of 463.7 tonnes, and the lowest level of output since 2012's figure of 413.3 tonnes, but the 2018 figure of 401 tonnes (404 tonnes reported in some news outlets) is a new low for China's current regime. The main culprit is the new anti-pollution law enforced by China, which has hit smaller gold miners and refiners who cannot adapt to the new regulations.
Like Russia, China's disputes with the United States of America (most notably the trade war) have seen economic turbulence. The country is looking to switch from US Dollar-backed reserves, and BullionByPost reported how China has begun to add to its national gold reserves since December 2018 – after two years of not buying and almost two decades of giving little to no information on the nation's gold reserves.
This turbulence - and the global economic slowdown throughout 2018 - could be considered the main reason for China's gold output also losing pace, but with gold prices perking up at the end of last year and into 2019, consumer appetite could well see demand for gold (and subsequently output) climb in 2019.
.