---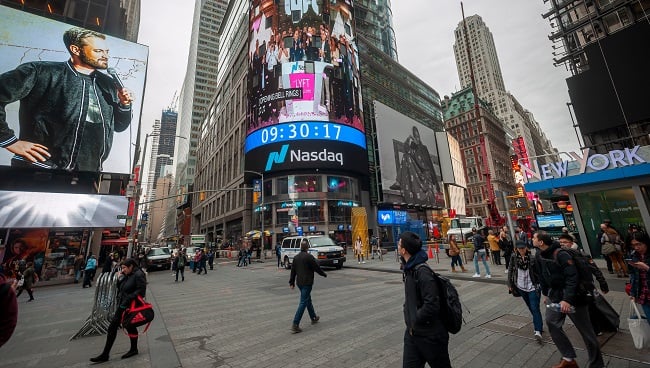 The tech-heavy Nasdaq stock exchange set a new record high yesterday, with firms like Amazon and Apple leading the charge of investor backing.
The Nasdaq market finished up 0.7% by the end of the session at 10,131 points - the second record-close in a row for the exchange and, according to the Wall Street Journal, the 21st record close of the year so far.
While the news is a welcome positive in a period of extreme financial uncertainty, demand for safe havens is still high, and the Nasdaq stands alone as a positive while the S&P 500 and Dow Jones continue to struggle. In an article we published yesterday, we quoted the Bank of America whose recent survey of global fund managers returned a 78% response of stock markets as 'overvalued'. The combination of high value and higher risk at present has driven many into the safe havens of gold and Treasury bonds, and despite Nasdaq's consistent gains of late, the demand for these assets hasn't subsided or slowed.
Anxiety is high at the moment within the markets as we wait for a vaccine to Covid-19 and a return to normality. While the world is slowly reopening businesses and social spaces, there's contention about the right balance between protecting the public and protecting the economy. Both need the other to survive, but too slow or too quick a return from lockdown could spell disaster. Figures released on Sunday by the World Health Organisation reported 54,771 new cases in Brazil, 36,617 in the US, and 15,400 in India.
One crucial point raised this week by Bloomberg's Ed van der Walt warned of misreading economic figures being published at present. Focusing on the UK's PMI (Purchasing Managers Index) score of 50 - business is generally neither improving or deteriorating - Van der Walt explained that a drop from 50 to 20 and back up to 50 was not recovery, as the PMI figures do not account for economic contraction and simply reflect the sentiments of those within industry.
With many experts warning of recession and potentially depression to come, it's unlikely that gold and other safe havens will lose their lustre any time soon, but volatility is always present in markets during uncertain times and we could see many more instances of surprise asset records or sudden falls as investors attempt to navigate the current financial landscape.