Canadian Maple Leaf bullion coin
---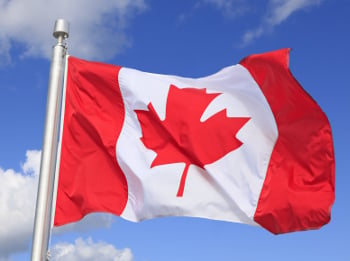 The Maple Leaf is the national symbol of Canada, appearing on its flag and it is only natural that it should feature on the official bullion coin issued by the Canadian government every year. The Canadian Maple Leaf is produced by the Royal Canadian Mint and issued annually by the Canadian Government.
All versions of the coin carry the same design- the obverse featuring the portrait of Queen Elizabeth II on the obverse and the iconic Canadian Maple Leaf on the reverse.
During the coin's lifespan so far, three different portraits of Queen Elizabeth II have featured:
1979- 1989: Arnold Machin's '39-year-old portrait', 1990-2004: Dora de Pédery-Hunt's '64-year-old portrait', and 2005- present: Susanna Blunt's '79-year-old portrait'.
The coin is struck in four different precious metals: Gold, Silver, Platinum, and Palladium.
.
Gold Maple Leaf
The gold Maple Leaf is a 24 carat gold coin containing 31.1g of gold at a fineness of 999.9. It has a diameter of 30mm and is 3mm thick. The Gold Maple has a nominal face value of $50. The coin was first released in 1979, filling a global need for bullion coins with the Krugerrand in short supply due to economic sanctions on South Africa at the time. Although there is a far larger variety of bullion coins available in the world today, the Maple Leaf is still one of the most popular and recognisable around. It is one of, if not the purest gold bullion coin available and is extremely popular with those who to prefer to invest in 24 carat coins, even if slightly more care is needed when handling them than with 22 carat coins.
Striving for purity has been a common theme in the Royal Canadian Mint's production of this coin. From 1979 until November 1982 coins were issued with a fineness of .999 until new standards were met, with coins issued henceforth minted with a purity of .9999. Certain special issue coins have even been produced at a fineness of .99999, containing 99.999% pure gold.
.
The Gold Canadian Maple Leaf is available in several denomination and sizes:

| | | | | |
| --- | --- | --- | --- | --- |
| Denomination | Face Value ($) | Weight (g) | Gold Content (g) | Fineness |
| Maple Leaf | 50 | 31.1 | 31.1 | 999.9 |
| Half | 20 | 15.55 | 15.55 | 999.9 |
| Quarter | 10 | 7.77 | 7.77 | 999.9 |
| Tenth | 5 | 3.11 | 3.11 | 999.9 |
| Twentieth | 1 | 1.55 | 1.55 | 999.9 |
| Maple Gram | 0.5 | 1 | 1 | 999.9 |
Click here to see our range of Gold Maple Leaf coins.
.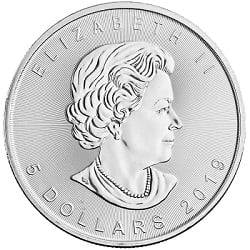 Silver Maple Leaf
The Silver Maple Leaf replicates the gold version in almost every way but the metal it is
made from. It is a 99.99% pure silver bullion coin that was first introduced in 1988 and
has been issued annually ever since. The standard Silver Maple has a diameter of 38mm,
weighs one troy ounce- 31.1g - and has a nominal face value of $5.
Click here to see our range of Canadian Silver Maple Leaf coins.
.
Platinum Maple Leaf
The Platinum Maple Leaf was first introduced in 1988, weighing 31.11g (1 troy ounce) of
.9995 pure platinum with a nominal face value of £50. It was issued annually in several
denominations until it was discontinued in 2002. The 1 oz. version of the platinum bullion
coin was reintroduced in 2009 with a purity of 999.5.
Click here to view our range of Canadian Platinum Maple Leaf coins.
.
Palladium Maple Leaf
The Palladium Maple Leaf is a 31.1g palladium bullion coin with a purity of .9995. It has a
face value of $50 and has had a much shorter and disjointed mintage history than versions
in other precious metals. It was first produced from 2005 until 2007, then for one year only
in 2009, before being reintroduced in 2015.