Pound Sterling gains ahead of May/Corbyn Brexit talks
---
2019-04-03T13:35:26 Liam Sheasby, News Editor
3 Apr 2019, 1:35 p.m.
---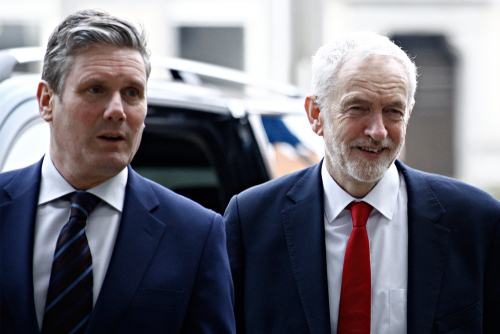 The Pound has hit a one-week high today after Prime Minister Theresa May revealed she would meet with Jeremy Corbyn, the Leader of the Opposition, to discuss ways to make a compromise over Brexit.
Sterling is at $1.317 and €1.171 respectively but did peak fractionally higher today at $1.318. Investors are optimistic about the Prime Minister's decision to cross her 'red lines' and make concessions on Brexit in order to secure a deal, with Deutsche Bank calling it 'huge news'.
.
The gold price for the last 24 hours in GBP
.
Resolution is seen as a path to easier economic forecasting and future decision making for many British businesses, and with only nine days left until the UK is set to leave the EU with what has been called a disastrous no-deal by many sources, immediate progress is a matter of urgency.
Some Tories clearly angry with Theresa May but she really had no other choice - the ERG have scuppered her deal and Parliament has the will and the power to prevent No Deal and secure a delay. There is no other magic option

— Rupert Harrison (@rbrharrison) April 3, 2019
The meeting is set to take place later today, following the conclusion of Prime Minister's Questions, with Brexit Secretary Stephen Barclay and his opposite number Sir Keir Starmer in attendance. Labour has repeatedly argued the case for a soft Brexit involving a customs union with the EU, but May's latest move has been greeted with hostility from within the Conservative Party, with many MPs believing that a deal goes against the wishes of the party and its members, as well as constituents and the original referendum result.
The decision comes at the same time as the latest data is released by the CBI and IHS Markit, with statistics showing the UK economy downturn is beginning to pick up pace. The Services sector saw its PMI contract from 51.3 points to 48.9 – a sign of sector growth contraction. This is two points lower than was forecasted for March.
Both the PMIs and @CBItweets growth indicator are consistent with activity slowing to a halt in Q1. The anecdote from both is the same: Brexit uncertainty holding back pipelines of work, corporate sending decisions and household confidence. https://t.co/ki6paCY11K

— Alpesh Paleja (@AlpeshPaleja) April 3, 2019
A lack of new work is blamed for the first quarter slump, on the basis that no Brexit outcome is making it hard for companies to decide when to invest, where to invest, and how much to invest. Chris Williamson, the Chief Business Economist at IHS Markit, said that the downturn was the worst slump since 2009 and the aftermath of the last decade's financial crisis.