UK house price growth slows as Brexit weighs on demand
---
2019-04-08T12:27:23 Liam Sheasby, News Editor
8 Apr 2019, 12:27 p.m.
---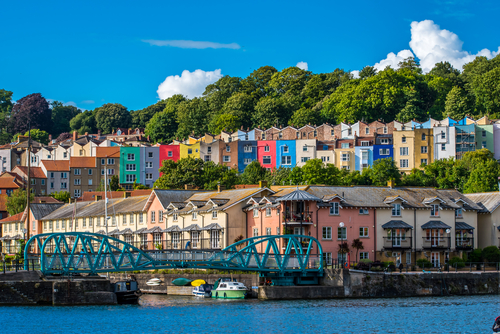 Colourful Victorian terraced houses in Cliftonwood, Bristol, next to the River Avon.
UK house prices rose by 2.6% between January and March this year, according to Halifax, compared to house prices for the same period in 2018. Prices across the UK for March actually fell by 1.6% but February's surge of approximately 6% boosted the quarter overall.
The data released by the mortgage lender reports a higher price growth for Q1 than was forecast by Reuters of 2.3% for the whole of 2019, though the news group did also challenge the statistics by pointing to the reduced growth – down from 2.8% between December and February – and by highlighting rival data from the Nationwide Building Society, which only showed a growth of 0.4% in prices for February – a far cry from the Halifax figure.
The UK Treasury has its own forecast of 1.8% growth for house prices this year, while the Office for Budget Responsibility believes that 0.8% of prices will be inflation-related.
The growth is positive despite the effects of Brexit and the widespread economic uncertainty. A supply shortage, like with any asset, is keeping prices higher, and the low unemployment in Britain – combined with steady mortgage rates – is stopping prices from sinking. Even with buyers put off from committing to buying a property with a mortgage (40% less mortgage requests than pre 2008/09 crisis), the UK's average house price has only slipped slightly.
On 30 occasions and across 8 years @IpsosMORI has measured public expectations of house price movements. The House Price Outlook is now +3. It has only been lower once; -2 in Oct'11.... pic.twitter.com/OoCiPC7JB1

— Ben Marshall (@BenM_IM) April 3, 2019
The area of concern is the south-east however, and London in particular. London is traditionally a trendsetter for wider UK house price performance. Year on year, house prices in London are down 3.8%, and the south-east region was down 1.1%. Such is the impact of the capital's price slump that last month England reported its first quarterly house price fall since 2012.
The challenge for economists and housing experts is to decipher which data is best to trust. Outside of the south-east of England, all regions reported house price rises. Bearing this in mind, can London's price drop be attributed to having reached a price peak? Or perhaps it's the impact of Stamp Duty on second homes in the capital – something that until recently was very common for foreign investors.
The Telegraph reports that the Royal Institution of Chartered Surveyors (RICS) is taking the middle ground: house price growth across the UK will slow down and reach a standstill in 2019, but the lack of housing supply will deny any real market falls.