---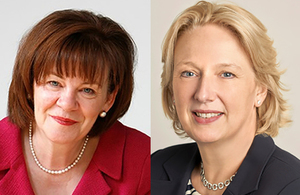 The newly appointed Dame Colette Bowe (Left) and Dame Jayne-Anne Gadhia (Right). Photograph courtesy of Gov.uk.
The UK Treasury has appointed two new external financial experts to the Bank of England's Financial Policy Committee (FPC). Dame Jayne-Anne Gadhia and Dame Colette Bowe will begin their three-year terms in March and June respectively, working to spot risks to the UK's financial stability.
In response to the news, Bank of England chief Mark Carney said he was delighted by the appointments, while Philip Hammond said: "The insight and experience that both Dame Colette and Dame Jayne-Anne bring will be valuable assets to the Committee's vital work."
Dame Bowe is currently chair of the Banking Standard Board, as well as a trustee of the International Financial Reporting Standards Foundation, the Nuffield Foundation, and a visiting fellow at Nuffield College, Oxford. She also has experience as a board member of the UK Statistics Authority, as well as a stint with the Department for Transport.
Dame Jayne-Anne Gadhia, who was named in the New Year's Honours, was the former chief executive of Virgin Money. Her previous experience includes a board position for UK Finance, as well as current contributions to the Financial Conduct Authority via her role on the Practitioner Panel.
The Bank of England has experienced strong criticism since 2017 for its limited diversity in senior positions, with men vastly outnumbering women in top roles and out-earning them. There is only currently one woman on the FPC – Elisabeth Stheeman, and there is only one on the Monetary Policy Committee too – Silvana Tenreyro. Conservative MP Nicky Morgan wrote to the Chancellor Philip Hammond as per her role as chair of the Treasury Select Committee (TSC) requesting that "all efforts" were being undertaken to promote diversity at the Bank of England.
The TSC began taking action in earnest in May last year after Jonathan Haskel was appointed to the MPC despite being the only male candidate amongst the five shortlisted. The Bank of England defended its position but was swiftly subject to additional scrutiny and rebuke following Ben Broadbent's comments to The Telegraph about the UK economy being 'menopausal. Mr Broadbent, an MPC member, later apologised for his remarks.
Labour MP Rachel Reeves spoke to The Guardian recently, claiming that the BoE "has not done enough to recruit, train and promote talented women". No woman has ever led the Bank, and there are concerns that as other sectors approach gender parity finance is lagging behind.
The two women will replace Richard Sharp in March and Martin Taylor in June as part of the 13-member committee. Click here to read the full UK Treasury press statement.