---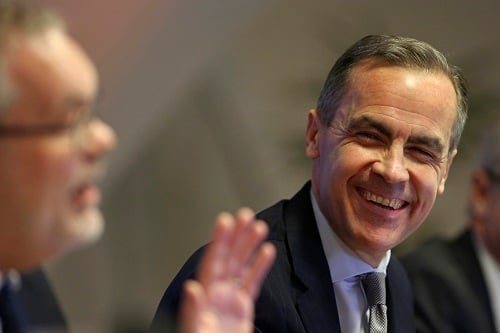 The chairman of the Bank of England, Mark Carney, told MPs in Parliament yesterday that the financial markets are now quite confident that there will not be a No Deal scenario for Brexit, with many firms factoring in the strong opposition to Theresa May's Brexit deal as the same opposition to no-deal.
Following last night's closely contested Vote of No Confidence in the Commons, Theresa May said she would open cross-party talks for a Plan B. Labour leader Jeremy Corbyn called for No Deal to be taken off the table before he would engage in talks, while other party leaders and senior MPs have since met the PM today. Nicola Sturgeon, SNP chief and First Minister of Scotland, criticised the PM after their meeting, claiming that there was no hint of compromise from May for an alternate deal.
Despite the Prime Minister's refusal to budge, Chancellor Philip Hammond was found by The Telegraph (through leaked recording of a conference call) to have called 330 top business bosses last night to reassure them that no-deal was to be removed as an option for Brexit's next step.
EXCLUSIVE

Telegraph obtains leaked recording of briefing Philip Hammond gave business leaders in aftermath of PM's defeat

Read full transcript including how Hammond said 'threat' of no-deal Brexit could be 'off the table' within days & A50 'rescinded'https://t.co/VITSFhQI1m

— Steven Swinford (@Steven_Swinford) January 16, 2019
Andy Bruce, an economics reporter for the Reuters news agency, took to Twitter to list the current standpoints of several major financial firms:
There's a huge range of views among economists on how Brexit will turn out. But they're leaning towards delay.

UBS: No deal chance ⬇️, A50 ext ⬆️
Oxford Econ: May deal(ish) likely
Schroders: No-deal risk high, soft Brexit unlikely
Natixis: May deal <20%, likely delay/revoke A50

— Andy Bruce (@BruceReuters) January 16, 2019
ADM: A50 ext then 2nd ref or hard Brexit
Berenberg: Softer Brexit or 2nd ref
Capital: A50 ext, Norway-ish Brexit
ING: A50 ext
Franklin Templeton: A50 ext most likely, hard Brexit wouldn't be so bad
RBC: A50 ext, then "truly alternative path" like 2nd ref

— Andy Bruce (@BruceReuters) January 16, 2019
Mr Carney spoke to MPs as the Commons debated the No Confidence motion in the government, brought forward by the leader of the opposition. At the same time, new statistics from the Consumer Prices Index revealed that prices in December were 2.1% higher than the previous December, but that this was a lower level of inflation than November – down 0.2% courtesy of fuel costs falling.
MPs in the Select Committee quizzed Mr Carney on the Bank of England's disaster strategy – specifically focussing on Brexit – and Labour MP Catherine McKinnell, for Newcastle North, was one member not convinced by the BoE's plans to raise interest rates in the face of an economic crash. McKinnell's argument was that increased rates would help banks but not the people. The BoE Executive Director for Financial Stability Strategy, Alex Brazier, denied this, claiming that the higher interest rates are bad for the banking sector due to the creation of more bad debts through defaults and emergency loans, but Phillip Inman – Economics Editor at The Observer – believes the Labour MP is right, and the Bank of England may be looking after its own interests first and foremost.
Nice to see that @catmckinnell isn't buying the @bankofengland line that it would jack up interest rates in the midst of a no-deal #Brexit. Mark Carney says it would save the banks. But neglects to say it exacerbates the dive in GDP, rise in unemployment and home repossessions

— Phillip Inman (@phillipinman) January 16, 2019
Typically, the drop in inflation would be bigger news and a welcome reduction, but with Brexit ongoing and the recent Commons votes it has taken a step out of the limelight. Instead the focus is on the Pound, which fell by 0.74% against the Euro in the run up to Tuesday's Brexit vote. Following Theresa May's defeat, Sterling bounced back by 0.37% - still not as strong as before but an indication of investor sentiment and which Brexit outcome(s) they would prefer. The Pound also climbed against the Dollar after Tuesday's result, reaching $1.2830.
Credit rating agency Moody's offered some solace to the UK, promising that the vote against May's Withdrawal Agreement hasn't made them enact any no-deal protocols yet and that the UK wasn't going to have its credit score adjusted just yet, while negotiations between political parties are ongoing.