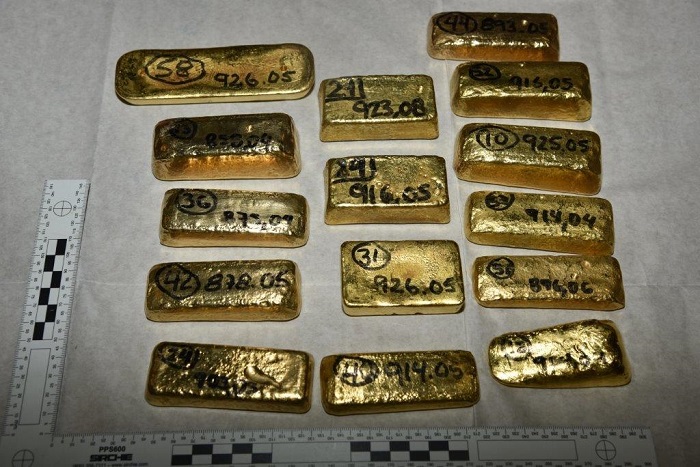 A selection of the gold bars seized at Heathrow airport last month. Photo courtesy of the National Crime Agency.
---
The UK Border Force last month seized $5 million worth of gold bars travelling from the Cayman Islands to Switzerland via London, officials have confirmed.
The gold haul, weighing 104 kilograms or 3,343.68 troy ounces, is suspected to be connected to South American drug cartels and with the intent of being laundered. Unconfirmed reports suggest the gold might have originated in Venezuela, with investigators identifying a private jet flight from the beleaguered country to the Cayman Islands in recent weeks as being the most likely courier.
Speaking briefly about the operation, the Border Force's Heathrow director Nick Jariwalla said: "Taking large amounts of money or gold out of the control of criminal networks hits them where they feel it most, in the pocket."
The shipment was seized by the Border Force at Heathrow airport on June 1, but the news has been kept quiet until today when the case – and the gold – was passed to the National Crime Agency (NCA). Uxbridge Magistrates Court in London has ruled at a hearing that the gold falls under the Proceeds of Crime Act 2002 and thus qualifies as their jurisdiction.
In a statement, Steve McIntyre – the NCA's branch commander for Heathrow, said: "We believe that this shipment was linked to drugs cartels operating out of South America. Working with partners overseas and in the UK, we were quickly able to identify it and stop its onward movement.
"The business model of many organized crime groups relies upon the ability to move money across borders, to fund further investment in criminal activity. If we can stop that it not only causes disruption to the criminal network involved and prevents them benefiting from crime, it also stops that re-investment."
An investigation is currently underway in the Cayman Islands, with the National Crime Agency providing assistance.