---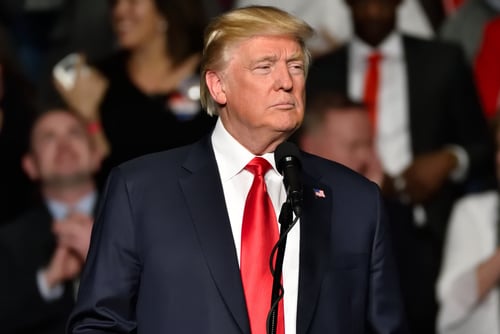 Global stock markets are rushing to sell following President Trump's warning to China on Sunday that a tariff hike and fresh tariffs would be coming their way if they didn't stop stalling talks.
The United States has been losing, for many years, 600 to 800 Billion Dollars a year on Trade. With China we lose 500 Billion Dollars. Sorry, we're not going to be doing that anymore!

— Donald J. Trump (@realDonaldTrump) May 6, 2019
Trump took to Twitter to warn China that he would up the tariff rate to 25% on $200 billion worth of Chinese imports. Robert Lighthizer - US Trade Representative – accused Beijing of going back on promises already made, telling reporters "Over the course of the last week or so we have seen an erosion in commitments by China. That in our view is unacceptable."
NEW: Chinese Vice Premier Liu He will visit the U.S. for trade talks May 9-10, China's MOFCOM says. The decision to send him comes after USTR Lighthizer and Treasury Sec. Mnuchin yesterday faulted Beijing's negotiating tactics and said plans to raise tariffs on Friday are firm.

— Jenny Leonard (@jendeben) May 7, 2019
The response was a 6% fall in China's CSI 300 market yesterday – the largest since February 2016. The news that Vice Premier Liu will be going to the US this week has helped the CSI regain 1% today, but Chinese investors are still concerned that Trump will come down hard on China.
Japan's Nikkei lost 1.5% on Monday – approximately 335 index points.
The Dow Jones lost 450 points on Monday, before rallying back to a 67 point deficit.
Germany's DAX is down 0.5% today and lost 200 points over the weekend.
The UK escaped thanks to the Bank Holiday but is down 65 points at present (0.88%).
President Trump's response to China is strong but hardly unsurprising; talks have supposedly been ongoing since last summer, and yet for all the hints from both America and China are about good progress, little has actually been revealed or seemingly achieved. The frustration boiling over is believable but given Trump's love of PR/spin and the strength he has in threatening tariffs, it's hard to know whether China is truly dragging its heels or if the trade war cycle is desired by the USA.
Below is a diagram from Investing.com analyst Jesse Cohen, who points out that this might be the case, and how the cycle of the trade war keeps on going round and round.
Until then expect more "Markets rally on U.S-China trade progress" and "Markets slide on U.S.-China trade fears".

The cycle continues. $SPY $SPX $ES_F $VIX pic.twitter.com/pbS0jbF6fX

— Jesse Cohen (@JesseCohenInv) May 7, 2019