Theresa May broke down in tears today, as she announced that she will stand down as Prime Minister within weeks.
As she stood on the steps of Downing Street, Mrs May said she will resign as Conservative leader on June 7, but will remain as prime minister until a replacement is selected. The news is considered unsurprising, given the Brexit gridlock.
Mrs May finally admitted defeat, and bowed to the pressure of her own MPs, and the threat of being forced out by the 1922 committee. The group of backbench MPs voted earlier this week on whether to change party rules, and allow a further no-confidence motion to be held against the prime minister.
Theresa May had hoped to deliver on Brexit, with a vote on her Withdrawal Agreement to be held in early June – the fourth time it would have been voted on. However, promising bold new offers didn't cut the mustard, with many MPs across the House reacting poorly to the announcement and refusing to vote for it.
With Brexit already delayed – and cross-party talks with Labour collapsing last week – confidence that Theresa May could deliver any sort of Brexit vanished, and calls for her resignation grew louder.
Her resignation speech, which left the PM in tears, was met with positive responses from Conservative MPs.
.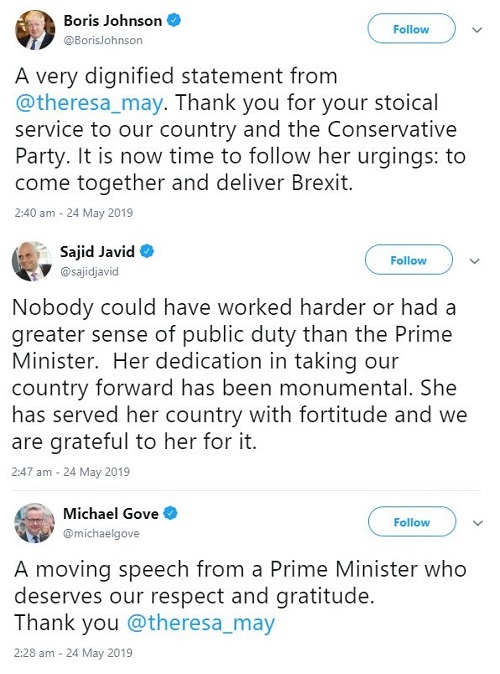 .
But Labour leader Jeremy Corbyn said she was right to go:
.
.
The race to officially find her successor will begin in the week after her departure – and Brexiteer Boris Johnson is the current favourite.
Between the selection process and summer recesses, whoever takes over will have little time to implement their own Brexit strategy, with the October 31st deadline looming. It also remains to be seen exactly how much impact a new leader will even have; it is feared that a new Tory leader will solve nothing, leaving yet more uncertainty.
ITV's political editor, Robert Peston writes: "The big facts of her failed government – no majority in parliament, religious divisions on how to leave the EU - cannot be wished away.
"The Buddha would struggle to pacify and unite her fractious party. And the Buddha is unusual in not running to be Tory leader".
The news of May's departure helped the pound recover slightly on yesterday's low against the US Dollar, climbing back to $1.27112, but it has since dropped back to $1.26609. Should a Brexiteer like Johnson become the new Prime Minister, then all eyes will be on him to see what direction he takes.
Parliament seems set against a No Deal Brexit, but a softer Brexit involving a customs union seems an unlikely compromise Johnson would be willing to offer. Revocation of Article 50 would also seem highly unlikely for a pro-Brexit leader, leaving No Deal as the only remaining option.
Whatever the new PM's decision, the question on investors' minds is whether the Commons deadlock that has plagued the Brexit debate for months, can be broken, or will we crash out of the EU on October 31st?