IFS: "Rarely can a starker choice have been placed before the UK electorate"
---
2019-11-28T12:13:02 Liam Sheasby, News Editor
28 Nov 2019, 12:13 p.m.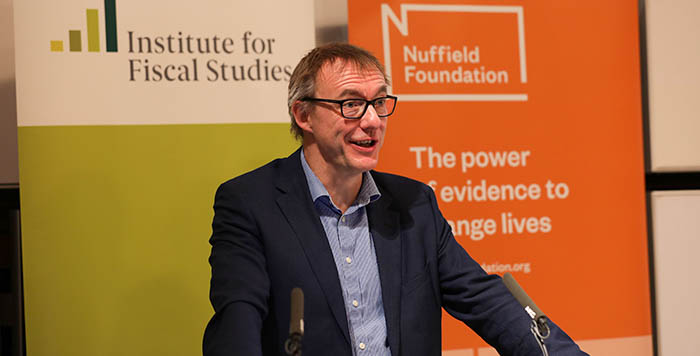 Paul Johnson, director of the Institute for Fiscal Studies. Image courtesy of the IFS.
The Institute of Fiscal Studies has published its analysis of the Conservative and Labour manifestos with two weeks until the general election. Their verdict? "nothing new in the Conservatives' manifesto" and Labour "want to change everything."
.
The Conservative manifesto:
"The Conservative manifesto? There's just nothing in there. There's very little".
That's according to IFS director Paul Johnson, who spoke to journalists this morning as part of a detailed look at all the political manifestos for the upcoming election.
According to the Institute, the Conservative pledges in this manifesto are miniscule tweaks to existing budget promises and the only real change is that the decision to cut corporation tax from 19% to 17% has been scrapped. This is likely because of Sajid Javid's triple tax lock – a promise from the Chancellor that there will be no increases to National Insurance contributions, VAT, or Income Tax.
The IFS detailed publication released last Sunday said the following:
"If a single Budget had contained all these tax and spending proposals, we would have been calling it modest. As a blueprint for five years in government the lack of significant policy action is remarkable."
.
The Labour manifesto:
"The Labour Party manifesto offers a very substantial increase in the role of the state".
Jeremy Corbyn's Labour party has proposed a raft of changes to the British economy. Nationalisation of water, rail, and even broadband is at the heart of the party's plans, as well as a marked increase in public spending – up by £80 billion (10%) by 2023-24.
Labour's argument is that the richest in society aren't paying their way, whether big tech firms like Facebook and Google, or those earning over £80,000 per year. Chancellor John McDonnell has argued that these taxes would match the increase in public spending, as well as £55 billion per annum of investment spending.
The IFS has expressed concerns about the speed at which Labour could introduce these changes, but also specific policies like freezing the state pension age at 66; something Paul Johnson described as a very expensive pledge in the face of demographic change". Similarly, Labour's plans to do away with university tuition fees could expose the system to an influx of students – pushing the cost to the government (and the taxpayer) higher.
Johnson argues that if Labour's plans did raise the funds they are predicting, then the UK would – as a fraction of national income – be paying more corporation tax than any other country in the G7 and almost any in the OECD.
Paul Johnson can be seen below on the BBC discussing Labour's manifesto proposals, which by their own admission are ambitious.
"These are enormous numbers, these are really, really big numbers"

Paul Johnson of the Institute for Fiscal Studies (IFS) on Labour manifesto pledges, asking if it is "genuinely credible" to fund them via companies and high earners#politicslive https://t.co/zUrURXMufm pic.twitter.com/mr6bV6Jg3a

— BBC Politics (@BBCPolitics) November 21, 2019
.
Other major parties:
Unfortunately, little investigation has been given to the other main parties in the upcoming election. The SNP, being Scotland-only, haven't received scrutiny, and smaller parties like the Greens and the Brexit Party have also not been evaluated.
The Liberal Democrats were slightly discussed in today's evaluation, with Mr Johnson describing them as "the most fiscally prudent" with regards public finances. There was seemingly some contradiction when saying that these plans would ordinarily be seen as radical themselves, given there are spending increases in their manifesto, but that their proposals are still modest and "very much dwarfed" by Labour's offer.
.
The IFS conclusion? "If you think things are pretty much OK as they are, then you will like the Conservative proposals for tax and spend. If you want big increases in tax and spend, then Labour and the Liberal Democrats have plenty to offer."