After 18 years of flying, Virgin Australia has entered voluntary administration. In a worrying sign to the aviation industry as a whole, its demise could be one of several airlines to collapse as a result of the coronavirus.
Originally titled Virgin Blue, the low-cost air travel company was floated on the Australian Stock Exchange in 2003 and became a full-service airline in 2012. Virgin Australia soon became the country's second largest carrier, and its collapse will be a blow to Australia's flight capacity.
Virgin Australia is part of billionaire Richard Branson's Virgin Group, and other airlines within the group are also facing financial crisis as a result of the outbreak, and the near collapse of international travel it has caused.
In Australia, the coronavirus crisis left Virgin Australia unable to repay a debt of about $5 billion it had already been struggling with. The Australian government refused the company a bailout of $1.4 billion. While an alternative government offer of $715 million to subsidise running costs alone was considered too low to support the company while all flights were grounded.
Australia now appears on track to loosen its lockdown measures in the coming weeks. There has been a levelling off in the number of deaths and confirmed cases from Australian public health. Should the Australian Department of Health benchmarks be met, their tough measures could soon end, but all too late for Virgin Australia.
.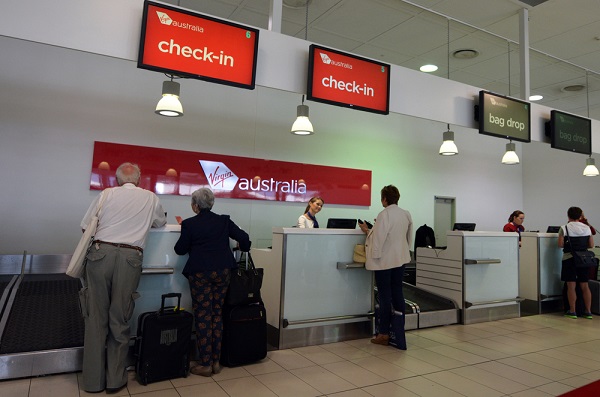 No more check-ins, April 2020 sees the end of Virgin Australia international and domestic flights.
Branson put some blame for the airline's collapse on the Australian government. He said, "In most countries, federal governments have stepped in, in this unprecedented crisis for aviation, to help their airlines. Sadly that has not happened in Australia." However, he went on to say he was, "determined to see Virgin Australia back up and running soon."
The International Air Transport Association estimates that the Covid-19 crisis could lead to a $314 billion drop in global airline passenger revenue. Virgin Australia is not the first airline lost in the wake of the coronavirus, with the UK's FlyBe already shutting down earlier this year, and it may not be the last. Branson's Virgin Atlantic is also asking for help from the UK government, and others have reduced staff in a desperate attempt to reduce costs while unable to fly.
The aviation industry is certainly one of the worst hit as a result of the coronavirus, and with so many companies closing, many are wondering how, and if, the landscape of international flights will ever recover.
The collapse of Virgin Australia is just one more indicator of the devastating economic effect of the global crisis, and not just on airlines. All governments are facing huge economic decisions on where they draw the line for business subsidies, and the amount they spend now, will have far reaching effects on the global economy for years to come.