The UK has officially entered recession, following confirmation of a record contraction for GDP in the past three months.
Q2 2020 (April – June) saw the UK economy shrink by 20.4% versus Q1, the largest fall ever recorded for the UK economy, and one of the worst falls globally. Only Spain experienced a worse contraction, with its economy shrinking by 22.7% in Q2, and leaves the UK in a perilous financial position for the remainder of the year.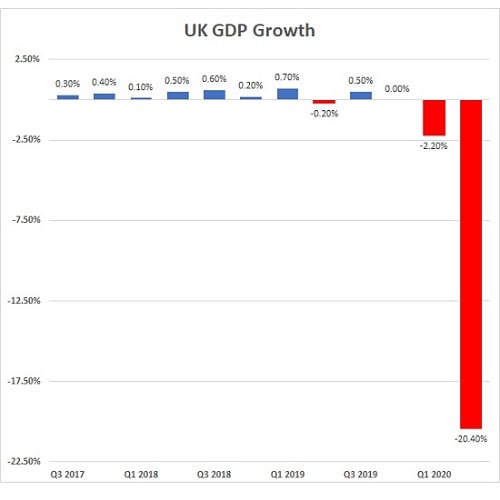 This is the first recession for the UK since 2011, but the severity of this drop is far worse, and is a worrying indicator of just how exposed the UK economy is to the pandemic. With the service industry contributing far higher to the UK economy than other industrial countries like the US and Germany, the closing of shops and restaurants during lockdown has caused the much steeper fall.
The easing of lockdown restrictions in June saw a small bounce back, with a growth of 8.7% for June versus May, but analysts were quick to caution that the economy was still far below its pre-pandemic level of February. With the UK's Chief Medical Advisor – Chris Whitty – also advising that the UK is now at "the limits of what we can do in terms of opening up society" the recovery may fail to gain any further momentum going forward.
Unemployment in the UK is also rising, with 220,000 more people out of work in Q2. While already worryingly high figures, these numbers are only expected to increase between now and October – when the government's furlough scheme ends. Analysts fear that as employers are expected to resume paying full staff wages, many will choose instead to let go of employees while their businesses struggle to make money in the new landscape going forward.
Looming over any hope of recovery going forward are the fears of a second wave. Australia, France, Spain and Greece have all reported increasing cases, and reintroduced restrictions to bring numbers back down. The UK has so far been relatively successful in reopening without a surge in infections, but numbers are rising slowly, and the resumption of schools in a few weeks is not without the risk of tipping the scales in the fight against a second wave.
Figures for Q3 then will be watched closely for any signs of further recovery, but restrictions could see that recovery stall and the UK economy stuck at these low levels moving forward. Any second wave and subsequent national lockdown could cause even more damage, especially in the retail-heavy Christmas period. With Brexit also expected to cause further damage, and no sign of any deal just a few months from the deadline, there could be further pain to come for the UK economy in 2020.