The challenges presented by a world with social distancing as the new normal, have been widely documented, and even official bodies like the United States Mint are not immune from its effects.
The US is suffering from a severe shortage of both common currency and bullion coins. The shortage in coin supply is just another dilemma created by the coronavirus, which has caused a reduction in high street spending and coin circulation, while also impacting the mint's production capability due to employee safety measures.
As a result of this double whammy, US shoppers now face a shortage of small change and investors are struggling to buy US bullion coins.
Laura Byers of Coastal Community Bank told the Washington Daily Herald, the shortage was, 'hitting every bank and it's hitting small businesses especially hard.' She explained that, 'During the lockdown, obviously, people weren't out shopping in person and using coins.'
On August 7th, US Mint Director, David J. Ryder, made a public service announcement. He stated, 'Right now, coins aren't circulating through the economy as quickly as they were prior to the COVID-19 pandemic, which means that sometimes coins are not readily available where needed.' He went on to ask the US public to, 'Help get coins moving by using exact change when making purchases, taking your coins to financial institutions, or turning them in for cash at coin recycling kiosks.'
Many shops in the US are therefore struggling to offer small change for paper bank notes and are now requiring customers to pay with credit cards. Coin operated gaming arcades have been particularly badly affected.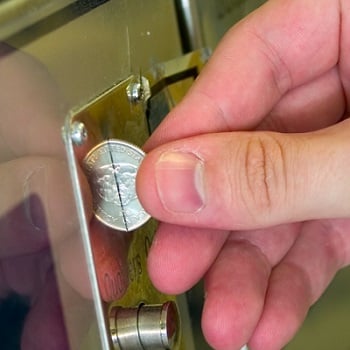 Fast food restaurant, Chick-fil-A, has even been offering customers a $10 note and a free entrée in exchange for $10 in coins.
The Federal Reserve has now convened a "US Coin Task Force" to address the problem. Many are also predicting that the US Mint may take advantage of the situation to remove the one cent – Abraham Lincoln penny – coin from circulation. The coin is little used, often discarded, and costly to produce.
The coronavirus pandemic has accelerated many business and economic trends. In the long-term this may include the increasing use of contactless electronic payments and the move towards a cashless society.
Like all businesses, the US Mint has also suffered with production problems due to Covid-19. The need to social distance staff, as well as dealing with the increasing numbers of cases in the US, has inevitably impacted how many coins each mint can produce at any single time. Answering the demand for common currency coins has then had a knock-on effect on their gold and silver bullion coin production as well.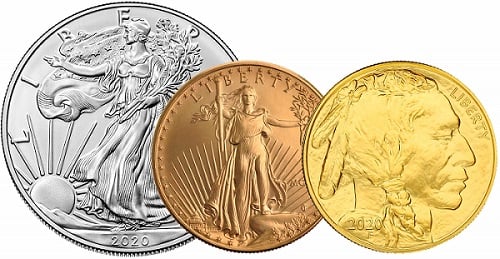 During mid-April, production of their popular silver Eagle coin was moved from West Point to Philadelphia, while the West Point facility closed due to employee safety measures.
The US mints finally returned to pre-virus operation levels in June and managed to produce one million more ounces of Silver Eagle coins, American Gold Eagle coins and American Platinum Eagles than in 2019. Despite this increase however, it could not meet the huge demand for these US bullion coins.
The Mint has advised that it expects the disruption to continue for another 12 – 18 months and is currently only able to produce silver or gold coins, rather than both metals at the same time. This has occurred just as demand for safe haven gold and silver coins soared to record levels, with American investors turning to the Eagle and Buffalo coins to protect their wealth against a weakening Dollar.
This high demand and low supply has pushed up the price of US bullion coins when compared to gold and silver currencies from other nations, with premiums reaching record levels.
With American infections still at worrying high levels it seems the US is still far from winning its battle against coronavirus, and US bullion coins will be scarce in 2020 as investors continue to turn to precious metals.