---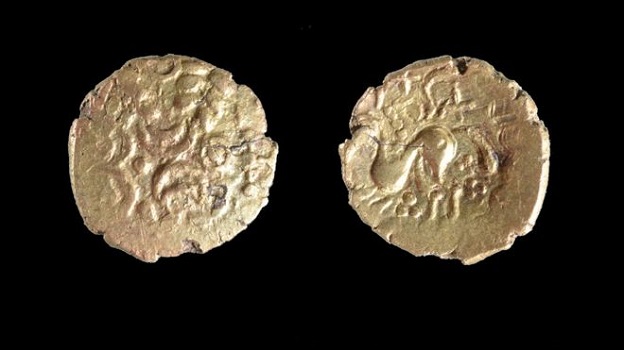 The gold Stater coins found near Blythburgh, east Suffolk last February. Image courtesy of Suffolk County Council.
A collection of Iron Age gold coins has been declared treasure by Suffolk's senior coroner, having been discovered almost a year ago.
19 coins were found near Blythburgh, east Suffolk last February by a metal detectorist. The anonymous finder reported the discovery to Suffolk County Council, and through them the coins have been the subject of extensive cleaning and analysis for the past year, ready for sale to museums keen to display the collection to the public.
The gold hoard has been described as "really unusual" given the area it was found, with experts usually finding these types of coins just north of the River Thames – some 90 miles away from Blythburgh. The hoard even includes one previously-undiscovered style of coin.
The Iron Age was a rough period of time at its longest, ranging from 1200BC to 15BC, though this timeframe varies per country in Europe. The prevalence of iron spread across the world from Asia and the Middle-East to Europe around this time, and led to the development of improved tools, weapons, and armour.
Speaking to the BBC about the find, archaeologist Dr Anna Booth described the significant find as an example of "cross cultural interaction" between nearby counties. Tribes took the place of counties in the Iron Age period, and the 'minting' (hammering) of the coins is thought to have occurred between 45-25BC, though Dr Booth estimates that the coins were later buried – perhaps around 20AD.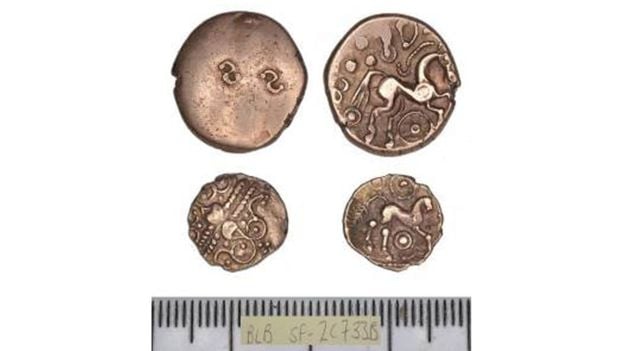 The gold Stater coins and two of the smaller quarter Staters. Image courtesy of Suffolk County Council.
Many of the coins – determined as gold Staters and quarter Staters – depict Addedomaros, King of Trinovantes. Bearing that in mind, it would be logical to assume that the trading was between the Trinovantes, who occupied Suffolk and Essex, and the Catuvellauni – located in the place of modern-day Hertfordshire and London. This would connect it to the Thames region. However, territories varied and it could well have been that the Trinovantes occupied territory north of the River Thames, but may well have lost Blythburgh, which lies near the border with the Iceni tribe of Celts who occupy what would be Norfolk and parts of the Lincolnshire and Cambridgeshire Fens.
Museums across the UK have begun declaring their interest in taking the coins from Suffolk County Council, with Dr Booth speaking of "a lot of interest" in the Blythburgh hoard.