The US economy, considered to be one of the strongest in the world just last year, has experienced its worst contraction since records began as coronavirus rages across the country.
Q2 2020 saw the US economy contract by a shocking 32.9%, a figure worse than analysts had expected, and a worrying sign for the world's reserve currency. Following the 5% fall in GDP for Q1, this means the US is now officially in recession.
.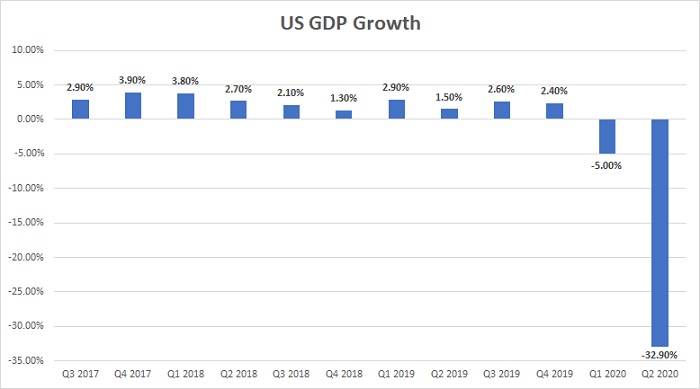 .
The hope for the US going forward is that Q3 will see some recovery with lockdown measures eased, however this hope is on shaky grounds. The US is currently experiencing record numbers of cases and has not even reached the peak of its infection rate. Many states like California and Texas are exhibiting extremely high numbers of infections and have had to reintroduce lockdown measures in an attempt to slow infections down.
Q3 then (July – September), does not look likely to experience the significant increase in consumer spending and production that would be needed to see the recovery the US will be hoping for. Unemployment has been growing in the US, and national aid programs are due to end shortly, which would likely see these numbers grow. Congress is battling to agree a new economic relief package but have so far struggled to agree on the measures.
Outside the US, Germany also reported its sharpest decline on record for Q2 – a fall of 10.1%. Germany has been more successful in its efforts to reduce infection rates, but as a country that is heavily reliant on industrial production and exports, it has still suffered as a result of the pandemic and is also now officially in recession.
Spain has seen its economy fall by 18.5% in Q2, while France has seen a contraction of 13.8%, and Italy by 12.4%. The UK has yet to reports its GDP figures for Q2 but these are likely to be similarly poor, or worse given the later easing of lockdown.
The Dollar has weakened as a result of the growing cases there, which has seen the Pound increase by 3.2% this week against it. This represents the highest Sterling has been versus the Dollar since February, when the infection began to spread to the west.
Gold has had a record-breaking week on the back of the growing pandemic, with the price passing the previous all-time high, and setting a new record of $1,982.37 this morning. Q3 figures will not be released for some time, but will be closely watched for any indication of whether the v-shaped recovery many had hoped for is possible, or if contraction will continue.