The Eurozone economy reported its worst ever quarterly contraction this week, in the first sign of recession for the major economic powerhouse.
Eurostat, the European Union's statistics office, reported a Q1 output drop of 3.8% for the Eurozone, the sharpest quarterly decline in economic output since 1995.
.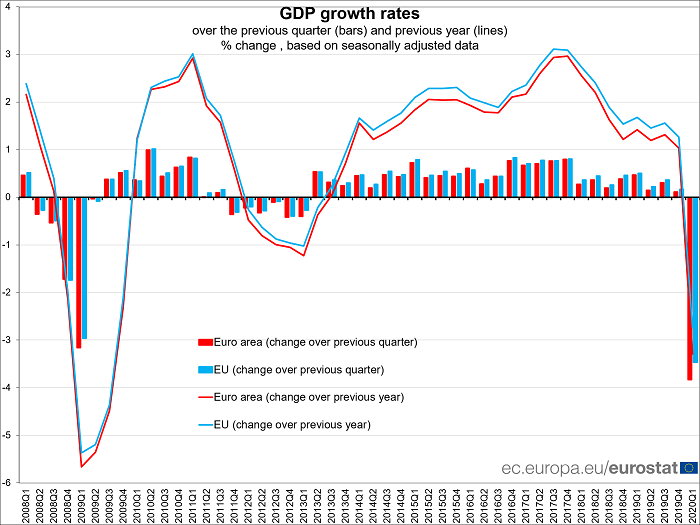 Eurozone GDP, as seen on the Eurostat Twitter account.
The US saw its GDP fall by an even higher 4.8% during the first quarter, its worst performance since 2008. This puts both the EU and US past the first part of the way to a full recession (two quarters of contraction in a row).
Eurostat also found that unemployment rose by 0.1%. This is despite the fact that Q1 figures include only up to three weeks of general Covid-19 lockdown and would suggest that worse can be expected for Q2, when the majority of nations were in full lockdown from the coronavirus pandemic.
Figures from France also showed the previously strong economy has now officially entered recession following a dip of 5.8% in Q1 2020, after shrinking 0.1% in Q4 of 2019.
Few countries are expected to dodge their own recessions in the coming months, after huge amounts of government spending, and shutdowns crippling output globally.
Paolo Gentiloni, the European Commissioner for Economic and Financial Affairs, said, "This is why we need a recovery plan that is sufficiently large, targeted at the hardest-hit economies and sectors, and deployable in the coming months."
Despite a drawn-out compromise, member states appear far from united about the €500bn (£438bn) deal agreed by EU finance ministers on Thursday. The Dutch finance minister, Wopke Hoekstra, tweeted, "We are and will remain opposed to Eurobonds. We think this concept will not help Europa or [Netherlands] in the long term."
Christine Lagarde, Head of the European Central Bank, will meet soon with other Euro bankers. She will discuss what further measures the Bank can take to support the struggling Eurozone economies in view of the already worrying GDP figures coming out of its member countries.
The appetite for safe haven gold bullion in the Eurozone has also been high, with many refiners across Europe on lockdown, exacerbating the supply woes for those seeking physical bullion.