False rally for stock market as global economy slumps
---
2020-05-07T15:54:32 Steve Ward, News Editor
7 May 2020, 3:54 p.m.
After global stock markets have shown some sign of recovery in recent weeks, there has been talk of a potential bounce back for stocks following the most recent crash. Stock investors have been clinging to every bit of hope, and every positive headline that suggests the economic damage of Covid-19 can be undone.
Positivity is generally good, but in the current crisis a degree of realism is more important for investors struggling to protect their wealth. Faced with the scale of the economic downturn, any signs of a stock market rally seem based on the thinnest of hopes.
On its own estimates the European Commission now foresees the Eurozone economy contracting by 7.5% in 2020. This makes the coronavirus pandemic an economic collapse equal only to the 1930s Great Depression.
Latvian Executive Vice President of the European Commission, Valdis Dombrovskis believes, "the immediate fallout will be far more severe for the global economy than the financial crisis, the depth of the impact will depend on the evolution of the pandemic, our ability to safely restart economic activity and to rebound thereafter."
This is coupled with today's forecasts from the Bank of England, that the UK's economy is set to contract by 14% in 2020.
March saw stock markets hit a five-year low, as measured by the FTSE 100, as the coronavirus spread across the world and shut down most of Europe and America. Since then, based on optimistic predictions, it has clawed back less than a third of those huge losses.
.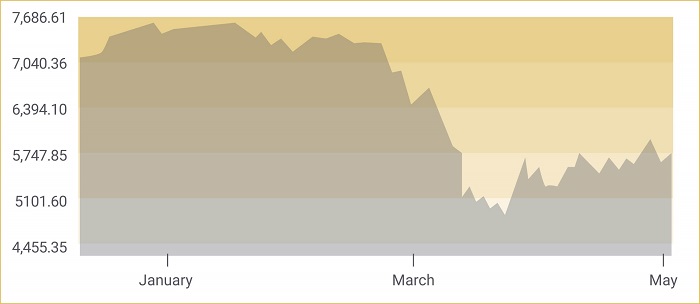 .
The majority of these market gains came from just a small section of the market. This was predictably big tech stocks of Facebook, Amazon, Apple, Netflix and Alphabet formerly known as Google - FAANG.
It was these stocks alone, plus their various compatriots, that drove the small recovery. Despite the stock market climb many other equities actually slumped and have failed to recover. Whether the FAANG stocks have the strength to maintain any gains remains doubtful.
The easing of lockdown restrictions in many nations, plus a hope for a vaccine, were the main factors contributing to the small recovery.
Algeria, Vietnam, Germany, Italy, Spain and some US states are amongst those easing their lockdown measures. France plans to lift restriction on May 11th, but Prime Minister Edouard Philippe warns against complacency.
Talking about a possible second wave of the virus he said, "The risk of a second wave - which would hit our already fragile hospitals, which would need us to reimpose confinement and waste the efforts and sacrifices we've already made - is serious." This mirrors comments made here in the UK by Prime Minister Boris Johnson and reflects the fears of many that some restrictions will have to remain in place for months to come yet.
Following its small gains, stock markets took a second blow. It came as United States President, Trump accused China of a Covid-19 cover up. This raised the threat of ending the temporary cease fire on the long running trade dispute between the two major powers.
With major companies like Virgin Atlantic laying off thousands of staff, and reducing their operations, businesses are facing a challenge unseen even during the financial crisis. Consumer spending also looks likely to drop; with unemployment predicted to double, salaries reduced while furloughed, and high street stores closed.
Faced by this huge global economic crisis, and continued risk to lives from the coronavirus, there seems little hope of a sustained stock market revival in the near future.