In what has been a volatile year for platinum, prices could be on the brink of a rally, following reports of a significant supply deficit facing the precious metal in 2020. Platinum has already gained an impressive 7% so far this week and could be ready to climb higher.
In their quarterly platinum report the World Platinum Investment Council's research shows that platinum supply is over one million ounces below current demand.
.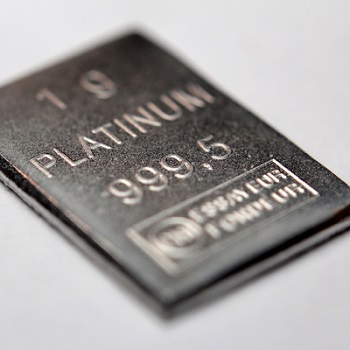 .
As with other precious metals this year, mining supply of platinum has been hindered by the outbreak of Covid-19. South Africa accounts for the vast majority of mined platinum and was affected by an outbreak across the summer. Platinum mines like Impala's Marula facility even closed after cases of the illness were discovered amongst workers.
South Africa has since been relatively successful in containing the outbreak, and the WPIC confirms that many operations have now been able to return to pre-Covid production levels, with supply back up by 48% in Q3 2020, but was still down 5% compared to Q3 2019.
While supply has been severely affected, demand has also grown. As with gold and silver, platinum suffered a price slump in March when lockdown restrictions hit Europe and the US, pushing platinum to a 12-year low.
.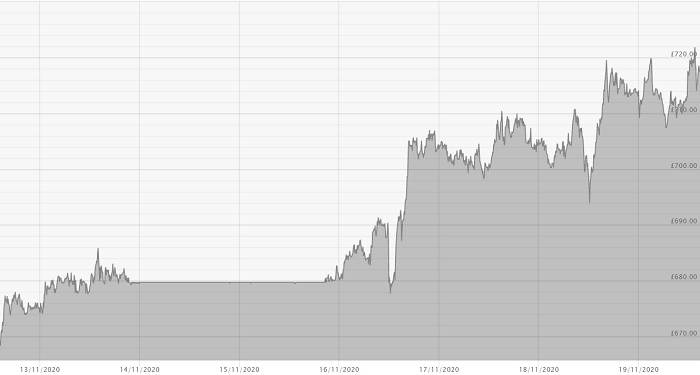 The price of platinum in GBP this week, showing an impressive 7% price gain.
Having since recovered somewhat – £718.11 per ounce at the time of writing – platinum is still considered undervalued by many investors, and with supply low many are closely watching for some sign of a further rally in the price that could see it push past £1,000 per ounce once more.
Supply is expected to continue recovering into 2021, but demand is also expected to keep increasing. The automotive industry has been impacted by lockdowns, but has staged something as a recovery as people weigh up the risks of using public transport to get to work as offices reopen in the coming months, keeping automotive demand for platinum high.
With gold prices near record highs, jewellery makers are turning to more cost-effective alternatives, and platinum jewellery is also experiencing a strong surge in demand, with demand forecast to rise by 13% in 2021.
Investment demand however has surged beyond both industrial and jewellery demand; with physical and ETF demand combined accounting for an incredible 291% increase year-on-year in Q3 2020. This too is expected to continue to grow, as investors look at platinum's impressive gains this year.
In the longer term, platinum also remains a useful component in future green technology, particularly those using hydrogen fuel cells, where platinum remains an excellent catalyst and cheaper than alternatives like palladium. With many countries committing to further green measures to combat environmental concerns, platinum could see even more demand in the years ahead from these emerging technologies.
Without a significant increase in platinum supply, it may not be long before platinum once again becomes a more mainstream investment metal for those looking for further diversification outside of gold and silver.