---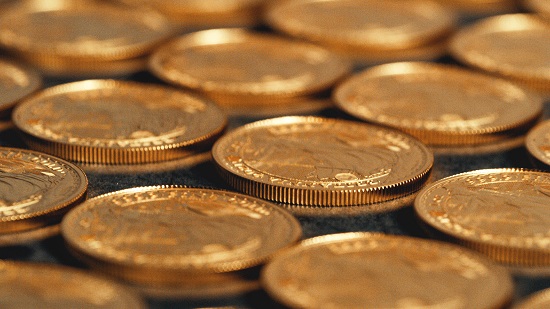 The Royal Mint has revealed its highly anticipated new design for its range of Britannia coins, starting with the 2021 coins due to be released on October 19th. Philip Nathan's classic design remains, but now with additional 'micro-detail' design elements to make counterfeiting near impossible.
The updated design has been heralded as "the most overtly secure bullion coin in the world" by Andy Dickey, Division Director for Precious Metals at The Royal Mint, and comes as part of a wider drive across the bullion industry to tackle forgeries.
The Canadian Mint has already added a holographic Maple icon to its classic Maple Leaf coin range, and is also toying with new minting methods revolving around high relief pressing and mirror finishing, while the US Mint is also working on methods of anti-forgery for its Eagle and Buffalo coins – potentially also to be revealed for 2021 release.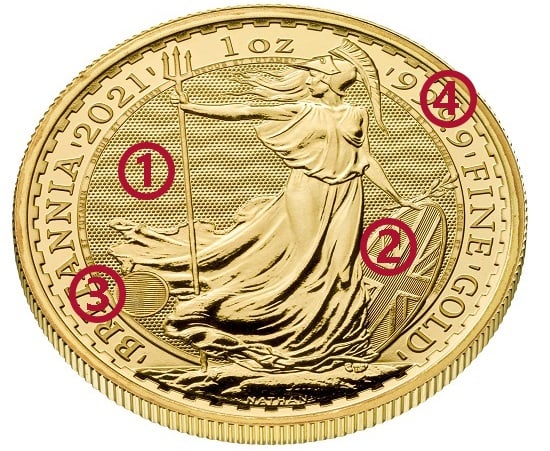 The new 2021 Britannia 1oz gold bullion coin. Photo courtesy of The Royal Mint.
There are four new security features for the 2021 Britannia coin range, as shown on the image above. The first of these is a new background design to look like waves as the light catches the coin's metal surface. While the previous guilloche design was a smart look, the new design from The Royal Mint is even harder to replicate. As an added touch, angling the coin differently will make the waves look like they are moving.
The second new feature are the sleek lines on Britannia's shield – a style found amongst British heraldry over the last thousand years or more – but the new hologram is the most impressive addition. Number three appears to be a Trident symbol, referring to Britain's naval heritage, but tilt the coin and the icon changes to a padlock – a not-so-subtle reference to the coin's new counterfeiting measures.
The final added protection is a ring of miniscule writing along a secondary, inner edge of the coin. This repeats the latin phrase 'Decus Et Tutamen', which means 'An ornament and a safeguard'.
Speaking as part of a live stream Q+A session at The Royal Mint, Gordon Summers, the Mint's Chief Engraver, said: "We've developed a number of security features over years and years. Normally you want to stack up your security features so if you have one good security feature then the chances of finding a counterfeit is fairly limited, but if you stack them up one on top of each other into numerous security features you find that creates a coin that is very secure.
"For these coins we wanted to produce security features that are relevant to the materials, so we don't want to add things that are going to detract from the fact that this is fine gold, so we tend to work with features that work with the body of the material."
The new Britannia gold and silver coins will be available for pre-order from October 12th.