In a high value market like gold, having access to timely, precise information is key to providing an accurate picture of that market. In a move towards this, the London Bullion Market Association and the Bank of England have agreed to report their gold holdings with just a one-month time lag from now on.
The LBMA give monthly reports of how much gold is being stored in London, with the Bank of England making up a large part of those holdings. Until recently, these reports were made monthly, but with a three-month time lag, meaning the figures were a financial quarter late, and could be significantly different from the current holdings.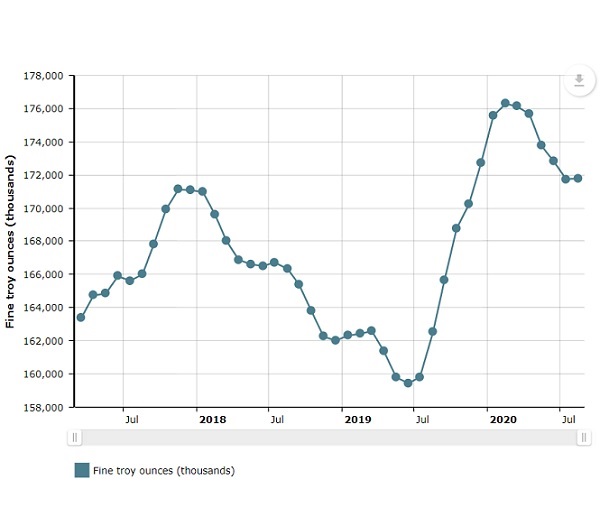 Bank of England "Gold Holdings" – as seen on the BoE website.
As seen in the chart above, the Bank of England maintains a relatively consistent holding of gold from month to month, but with every 1,000 fine troy ounce representing over £1,000,000 these reports can reflect the movement of billions of pounds, as seen in H2 of 2019.
Seeing these large-scale trends can be useful analysis of the market, and the move to just a one-month delay is a good step towards improving the transparency of the market as a whole, and the accuracy of information available.
This gold includes national reserves for the UK, other countries who choose to trust their nation's wealth in British vaults, and commercial banks.
As the BoE website mentions: "We have reduced the minimum lag for this data from three months to one month. This is to increase transparency around gold holdings, in line with the Fair and Effective Market Review's goal to increase transparency in the gold market."
The Fair and Effective Markets Review was published back in 2015 and looked at ways to improve market transparency and trading standards across the UK banking industry, including bullion deposits.
Since then the LBMA has taken steps to improve transparency, making the recent reporting change just the latest step in an ongoing process to create a more open, and honest bullion market. As Ruth Crowell, the LBMA's Chief Executive said of the recent change: "The London gold and silver vaults' holding data makes an important and well-followed contribution to the understanding of the flows of precious metals into and out of the London market. LBMA is therefore very pleased to be able to offer this information on a more timely basis as well as aligning the one month time lag with the monthly clearing data."