UK unemployment hits highest level in almost five years
---
2021-02-24T14:31:25 Michael Pinson, News Editor
24 Feb 2021, 2:31 p.m.
UK unemployment rose to a rate of 5.1% at the end of 2020, the highest it has been since 2016. Despite some signs of improvement, employment remains a key risk to the UK's economic recovery, and analysts are warning things will get worse in the coming months as wage subsidy schemes come to an end.
.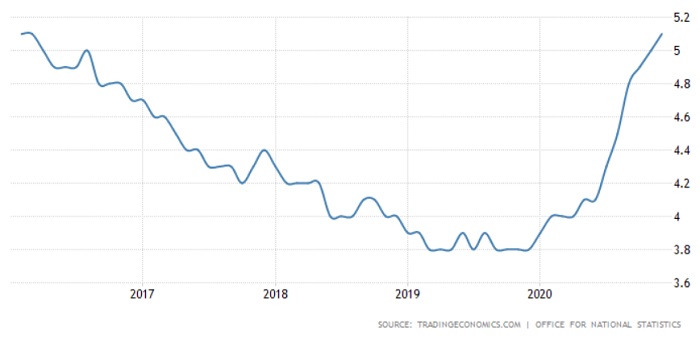 .
The most recent figures from The Office for National Statistics showed that payrolls were down 726,000 on pre-pandemic levels, with low-paid workers and those under 25 particularly affected. This leaves a total of 1.74 million people in the UK unemployed, and with the figure still rising, employment will be a key feature of the Chancellor's Budget next week.
The rate at which jobs are being lost does appear to be stabilising for now, with payrolls rising slightly, and the number of job vacancies increasing. The growth has been attributed to companies adapting to the challenges of lockdown over time, and some optimism over the UK's new timetable for the end of lockdown.
April and May should see non-essential retail and hospitality opening after what will have been months of lockdown. Some businesses will be looking to rehire staff let go over the past year, and take advantage of the expected pent-up demand.
The ONS and the Bank of England however are both warning that the unemployment rate will likely continue to rise, particularly as the government's furlough scheme ends. With around six million people classed as employed, who are instead furloughed, it is unclear how many of those will return to work. It will take time for consumer confidence to return in full, and ongoing social distancing restrictions will limit how much custom businesses can expect.
If the furlough scheme does end – as is currently expected in April – some businesses will still be closed, and could face months without enough custom to run profitably. With financial support ending they may choose to let go of furloughed staff. The BoE currently estimates that unemployment will rise to 7.8% this year, with thousands more jobs to be lost despite the potential end to the UK's third lockdown.
Many businesses will be watching the Chancellor's Budget next week for any sign of further support beyond the current April deadline. Protecting existing jobs, whilst also creating new ones, will likely be one of the main focuses, with tax rises and austerity measures not expected for now.
Rishi Sunak will undoubtedly be aware that mass unemployment will hinder economic recovery being offered by the UK's successful vaccination program, but will have a difficult task in balancing financial support, economic recovery, and soaring public spending.