Is the Biden boost for stock markets running out of steam?
---
2021-01-28T15:14:35 Michael Pinson, News Editor
28 Jan 2021, 3:14 p.m.
After setting surprising new highs last week, the Biden boost for the stock market could be showing the first signs of ending, after posting losses in trading this week.
The Dow Jones suffered its worst day of trading yesterday since October, and European stock markets have followed suit today.
.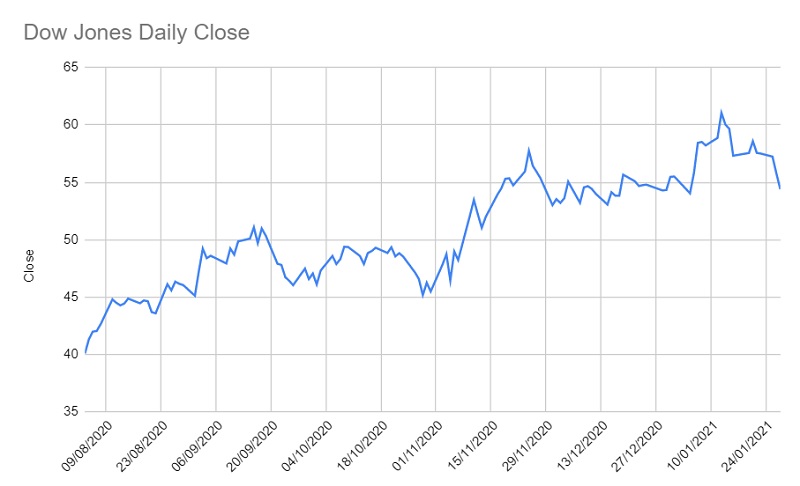 .
Since crashing in March last year, stock markets have since defied expectations, recovering losses and in many cases going on to set new records. A global pandemic of unprecedented impact shutting down many avenues of normal life and business, causing a surge in unemployment and soaring national debt would, for many investors, be clear warning signs to sell out of stocks to safer assets.
The confirmation of Joe Biden as the 46th President of the United States would also on paper seem to be bad for stock markets. Joe Biden has already announced a $1.9 trillion stimulus bill that will see national debt soar even higher. His new Secretary of the Treasury – Janet Yellen – has also promised to go big on spending while interest rates remain so low. Biden is also expected to introduce new tax and regulatory laws that will impact big business, hitting stock market's biggest companies with reduced income.
Instead, Joe Biden's inauguration saw both the NASDAQ and S&P climb to new record highs in what was dubbed a Biden boost. US markets were relieved at the return of a more predictable form of politics in the White House, as well as an increased focus on tackling the worsening pandemic in America.
The increased stimulus is hoped to bring increased spending, and growth for the US economy. After one of the worst recessions in history, the US has recovered more quickly than others due to its lack of severe restrictions and lockdown, and stock market investors have been happy to believe that business will continue as normal.
This week has seen some reversal however, with major stock indexes falling in recent days. Markets have been disappointed with vaccine rollouts, which has proved fairly unsuccessful in the US and EU, the latter of which has caused some further concern over potentially restricting vaccine sales outside of the EU.
Until vaccination is successfully rolled out in a widespread manner, restrictions and lockdowns are expected to drag on into the summer and beyond, hindering any recovery. Markets will also be wary that when the pace of the economic recovery does begin to accelerate, the trillions of printed money being released will also bring inflation with it.
The IMF has also warned that without the continuation of fiscal stimulus programs and low interest rates, a "correction" could occur with stock markets. It warned that many investors were ignoring economic and market data, and that a "sense of complacency appears to be permeating markets".
The latest fall in stock prices could be little more than the natural fluctuations of the market, or signs that investors are realising how disconnected the stock market has become from current global economics, and are instead turning to lower risk alternatives as a result.