Both the US and UK have reported further rises to inflation this week, in further signs that central banks may be wrong to claim inflation is just a transitory issue.
The consumer price index for June showed prices have risen by 5.4% year on year in the US, the highest rise since 2008, and far higher than the Federal Reserve's target of 2%. Monthly, prices rose by 0.9%, also the highest since 2008.
Even core inflation, which removes the most volatile items used in the index, rose by 4.5% annually. This is the highest core inflation figure in 30 years, and paints a worrying pictures of the significant price pressures on Americans in their daily lives.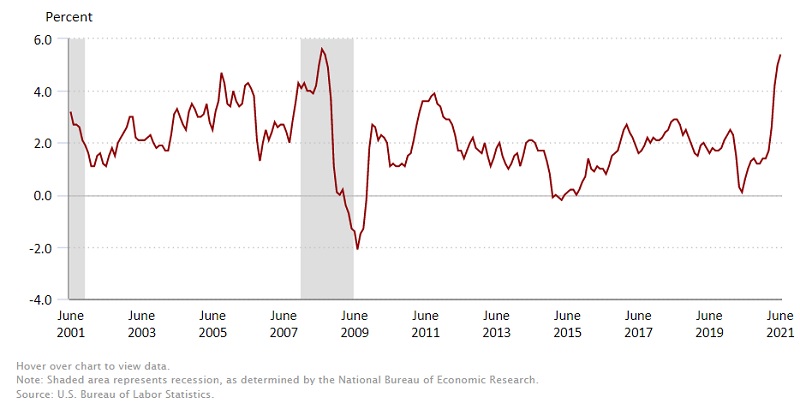 Figures released this morning show that UK CPI has also risen to 2.5% annually, the highest level for three years. Core inflation also rose by 2.3%, putting both figures above the Bank of England's 2% target.
In both the US and UK, food, clothing, and second-hand cars have all seen prices climbing. Energy and fuel however have proven to be a significant driver for inflation. Oil prices have been rising in recent months due to increased demand as countries increasingly open up from lockdowns. This has been further impacted by a deadlock in recent meetings between the OPEC oil conglomerate over how much to increase oil supplies by.
A breakthrough in the deadlock is rumoured to have been agreed, and should see supplies of oil rise in response to the higher demand. This should help bring oil prices down, and could help reduce some of the inflationary pressure from this sector.
As demonstrated by the relatively unmoved gold price, markets remain split on the numbers, and how transitory inflation will really be. High inflation is undoubtedly being amplified by the very low prices seen at this time last year. With core inflation also rising however, and numbers consistently coming in above expectations, others feel that there is a growing case for inflation being problematic and that the time is approaching to begin tapering fiscal stimulus.
Gold is currently caught in the same uncertainty over inflation. The trillions of printed money are helping stock markets to keep growing, with investors taking higher risks to invest in equities. If inflation does continue to show high numbers over the summer and into next year however, then interest rates will rise to combat this. Higher interest rates would then lower some of the appeal for gold as non-yielding asset.
Analysts are keen to point out however that a prolonged period of high inflation will still benefit gold in the long run, outweighing any potential downside of higher interest rates. If inflation does continue at current levels as 2022 approaches, then gold is expected to push higher as investors turn away from stocks and into precious metals.