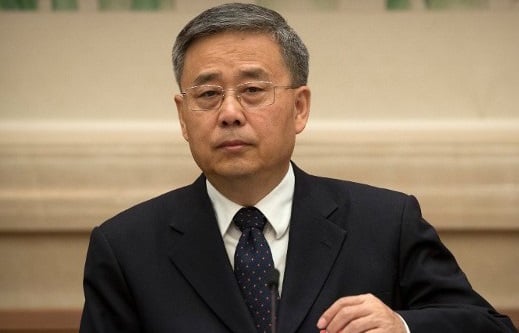 Guo Shuqing – chairman of the China Banking and Insurance Regulatory Commission
Chinese officials have aired their concerns over the stock market bubble in America and Europe, cautioning against over-commitment to stocks and shares for fear of a market collapse.
In recent weeks and months, stock markets in the US have been setting regular new records mid-session and at the session's end, with tech stocks on the Nasdaq particularly benefitting from investor demand. While Covid-19 and the associated pandemic lockdowns have disrupted many businesses and left hundreds of thousands unemployed, there have been many firms – the likes of Zoom, Netflix, Amazon and Spotify for example - growing thanks to the need for work and entertainment at home.
China is warning that without restraint now we could see a repeat of the Dot Com Bubble in 2000-2001, with Guo Shuqing – chairman of the China Banking and Insurance Regulatory Commission (also Party secretary of China's central bank) – telling reporters: "From a banking and insurance industry's perspective, the first step is to reduce the high leverage within the financial system".
The textbook definition of 'leverage' in a business sense is the idea of utilising debt, or rather loans. As part of the stimulus packages being instated on and off by central banks over the past 10-12 years, low-interest loans designed to keep money moving round regional economies and ultimately the world have been heavily leaned upon. Borrowed capital is being used to make investments, and China is worried that the greater the uptake in loans, the greater the risk should economic recovery not materialise as hoped.
Following Guo's speech, Bloomberg reported a big impact to Chinese stocks on Tuesday, with the CSI 300 index down 2.1%. Talk of a less relaxed approach to borrowing and spending has spooked the market. The Financial Times spoke to Grant Bowers of Franklin Templeton, who said: "The markets seem to be vacillating between optimism and pessimism, which is not unusual given that there are so many variables out there".
A stock market reset or actual collapse in the US and EU would be severely damaging to economic stability and the continued investment of capital, but it would also punish China too. Mizuho Bank analysts told Bloomberg that the stock market bubble bursting in the west could see an influx of capital into China, especially given the country's resilience to recession. If money rapidly moves into China then it will risk serious inflation, ultimately bringing up the cost of living for Chinese people and the cost of operating for Chinese businesses.
China's National People's Congress (parliament) will meet on Friday for their annual meeting, during which it is expected that the nation's economic forecast and goals will be revealed.