Gold under pressure as bond yields rise
---
2021-03-09T14:57:14 Michael Pinson, News Editor
9 Mar 2021, 2:57 p.m.
Rising bond yields have pushed gold to a ten-month low in Dollars, as markets price in economic recovery and rising inflation.
Since reaching a new Dollar record in August 2020 gold has come under pressure from increasing optimism over the potential end of the Covid-19 pandemic. While the latest rise in bond yields has compounded this price pressure further, it could prove to be an early sign of a new rally for gold in the months ahead.
.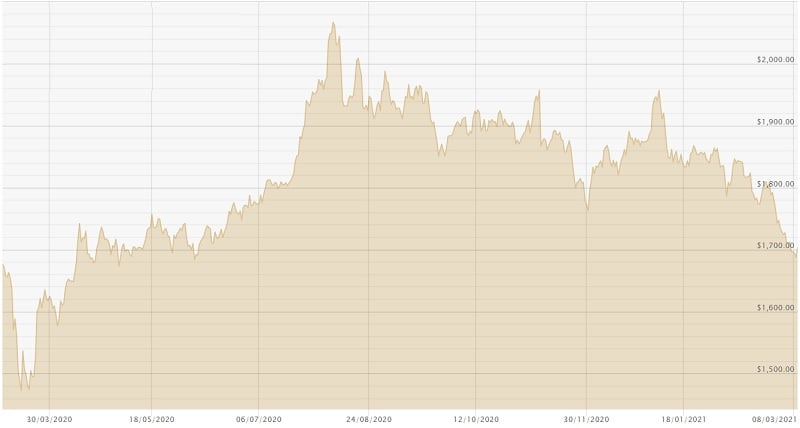 .
Investors have been selling off bonds in anticipation of improving economic recovery, pushing up yields to their highest levels in over a year. With global vaccinations progressing relatively successfully so far, markets are hopeful that restrictions will begin to ease in the coming weeks and months, spurring further economic recovery.
Recovery hopes have also been boosted by the approval of the latest US fiscal stimulus bill, totalling $1.9 trillion. Between the improving vaccine rollouts and the trillions in additional money pumped into the US economy, analysts are expecting to see strong GDP growth from the US in 2021.
The increasing optimism over the economic recovery however is also raising fears over inflation. With factories already reporting rising costs, many fear the increasing demand will worsen supply issues and push prices higher. This in turn is raising speculation that fiscal stimulus may need to tighten in an effort to keep inflation under control. Without the trillions of financial support economic recovery could then falter, and the weakness of some of the recovery would be exposed.
These fears have spooked markets, triggering stock market volatility and pushing both bond yields and the Dollar higher. Both have for now put pressure on gold, which dropped below $1,700 per ounce to levels last seen in May 2020.
Gold could come under further pressure should recovery continue at its current pace. If the inflation fears prove true however, then gold's status as an inflation hedge could come to the forefront and demand pick up further. Inflation is expected to be one of the biggest drivers for the gold price in 2021 and beyond, and bond markets would suggest that inflation is on its way in the coming months.