Zimbabwe have recently launched a new national gold coin, offered to citizens as a store of wealth and hedge against inflation. The new coin is already proving popular, and is a timely reminder of gold's long history as money, and its ongoing status as a safe haven around the world.
The coin is called the Mosi-oa-Tunya, which translates to 'Smoke that Thunders' and is a reference to country's Victoria Falls waterfall. It is struck in 22 carat gold – as is common for circulating coins – with one troy ounce of pure gold, as seen in the specifications sheet below issued by the Reserve Bank of Zimbabwe.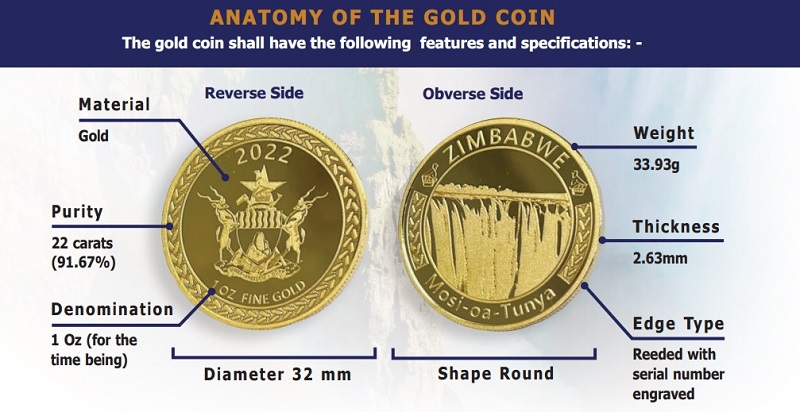 Many countries have their own official bullion coins of course, generally intended for investment purposes, whilst also benefitting from face value and legal tender status even if not actively traded in shops.
The Mosi-oa-Tunya coin is fairly unique however, having no face value attributed to the coin and sold purely based on its gold value. The RBZ issue a price each morning based on the previous day's gold price from the LBMA, with a 5% premium added for production and distribution.
Zimbabwe's economy has suffered greatly in recent years, changing from the US Dollar to the Zimbabwean Dollar. Inflation has run rampant as the country's economy stalled during the pandemic, and import costs soared. Hyperinflation has seen annual price rises well above 100%, hitting an unbelievable 256.9% as of July this year.
In addition to the release of the gold coin, Zimbabwe is also looking to accept USD as legal tender again in another bid to help stabilise the country's finances.
The Mosi-oa-Tunya gold coin has reportedly sold 1,500 units since being launched just over a week ago, and the RBZ intends to release further coins according to demand. With unique serial numbers and a certificate, they could be considered somewhat collectable at this point, but could become a new contender in the bullion market if the investment demand is there.
Parallels with South Africa's Krugerrand are clear of course, with that coin being one of the most popular bullion coins traded around the world. Zimbabwe's new offering for now will be a relief to citizens struggling with hyperinflation, and is a welcome adoption of gold as money for many in a world of increasingly digital finances.