Russia's vast gold reserves were officially sanctioned yesterday by the US and other allies, on concerns that the country could use the precious metal to shore up its struggling economy.
Just over a month since Russia invaded neighbouring Ukraine a NATO summit was held yesterday to discuss the ongoing conflict. A number of new sanctions were introduced, limiting the business and wealth of many Russian companies and individuals.
Among the sanctions however was confirmation that gold transactions with Russia would be prohibited. The restriction also covers Russia's gold reserves, and comes as NATO feared that Russia may be using their reserves to try and circumvent sanctions on the Rouble.
Russia had the fifth largest gold reserves in the world according to official figures released in 2019. The quoted figure of 2,292.33 tonnes came following a big push by President Putin in the past decade to reduce the country's reliance on the US Dollar and other foreign currency reserves, ostensibly for just such a situation as this.
As one of the world's largest producers of gold however (the second largest producer behind China), the true extent of Russia's gold reserves could in fact be much larger. With Rouble transactions limited the US claims that Russia could, and have been, using gold as an alternative way to support their economy. By selling gold to willing companies, or trading the precious metal for other currencies, they could help keep vital money flowing into the country.
The sanctions should put further pressure on Russia's economy, but is also affecting some gold miners in the country as well. Russian gold miner Petropavlovsk, listed on the London stock exchange, has reported this morning that the company is unable to sell gold that it owes to bank Gazprombank. The bank themselves were sanctioned yesterday, while the restriction on gold sales hits the miner.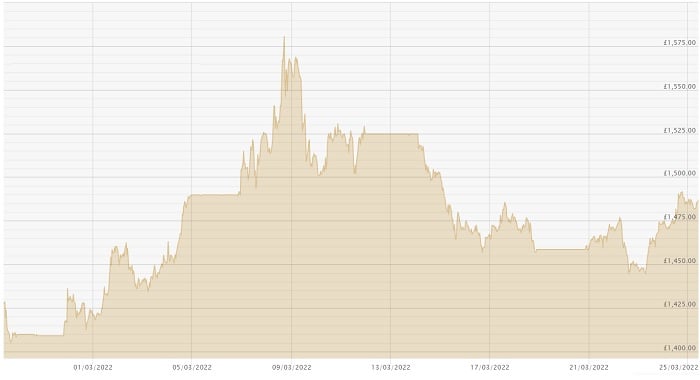 So far, the gold market has seen steady gains on the news, but hasn't seen any significant rises as yet. From a low of £1,442.29 per ounce on Tuesday, gold is now trading at around £1,485 per ounce today. Despite pulling back from the peak seen a few weeks ago gold remains up more than 10% in the past three months. Should the new sanctions result in the closure of Russian gold mines however then this will impact supply, and could further support gold prices in the weeks and months ahead.