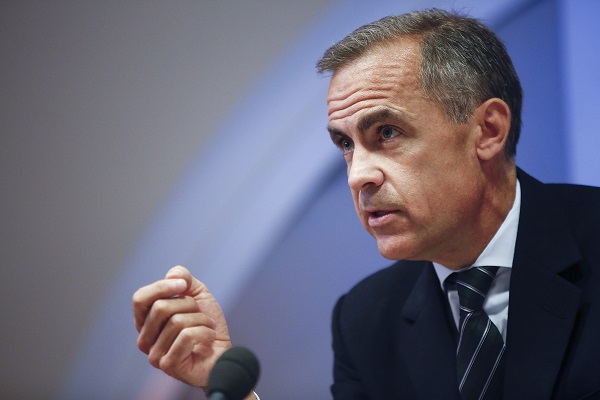 Mark Carney - Chairman of the Bank of England. Image courtesy of the Bank of England Flickr account.
The Pound is currently down below $1.26, having fallen over half a cent today following a torrent of poor economic news for the UK. Sterling is currently at $1.259, having sharply fallen from $1.264 in the last two hours, and has also fallen to a near-six month low of €1.116
A combination of weak manufacturing, construction, and housing data has damaged investor sentiment in the UK, and Bank of England chairman Mark Carney has admitted that the UK's economic growth is "considerably weaker" than forecast for the second quarter of 2019, with the absence of stockpiling and factory shutdowns related to Brexit blamed.
Ratings agency Moody's earlier issued a report on their analysis of the UK economy and how Brexit would impact on British credit, with their research pointing towards a recession in the event of a No-Deal Brexit.
The investor response has been a fresh turn away from the stock markets and back towards safe haven assets like gold and government bonds. The gold price has climbed £11.06 per ounce since the Pound value slipped, climbing back above £1,110 per ounce. Yields on 10-year government bonds have also fallen as demand has risen for state-backed investments, with the yield now down to a three-year low of 0.76%. The indication of both the low yields and rising gold price is that investors – and perhaps the City – are pessimistic about the UK economy and its potential for 2019.
Today's gold price in GBP per ounce, with a clear, sharp rise of £11 per ounce this afternoon.
.
Manufacturing:
Yesterday the UK economy was hit by the latest figures from the IHS Markit/CIPS UK Manufacturing Purchasing Managers' Index (PMI), which showed a sharp contraction in manufacturing for June; the worst monthly rating since February 2013 but the greatest fall in production since October 2012. The figure for May was a slightly higher 49.3 points, but 50 is considered the break-even point.
Employment in UK manufacturing has fallen for three months in a row now, with the overall global slowdown blamed on top of the Brexit uncertainty.
.
Construction:
Manufacturing might have had its worst performance in six years, but British construction had its worst production figures for a decade according to today's Markit data. The IHS Markit/CIPS UK Construction Total Activity Index fell from a poor 48.6 points in May to 43.1 points in June.
The reduction in business activity and new work were the most significant slowdowns since 2009 – when the financial crisis was in full flow. Markit's report, based on the testimony of building firms and their staff, blamed risk aversion in the face of both political and economic turbulence.
🇬🇧 UK Construction PMI ⬇️ down sharply to 43.1, the lowest since April 2009 (48.6 - May). New orders dropped to largest extent in over 10 years, while demand for construction products and materials fell at the sharpest pace since the start of 2010. https://t.co/M9L5BQmMyU pic.twitter.com/hazHfPopwb

— IHS Markit PMI™ (@IHSMarkitPMI) July 2, 2019
.
Housing:
New housing figures were also released today by Nationwide, whose latest industry survey showed continued house price falls in London (8 quarters running), and a meagre 0.5% price rise across the UK as a whole for the past 12 months.
In a statement accompanying the report, Nationwide's chief economist Robert Gardner said: "UK annual house price growth remained below 1% for the seventh consecutive month in June, at 0.5%. "Survey data suggests that new buyer enquiries and consumer confidence have remained subdued in recent months.
"While healthy labour market conditions and low borrowing costs will provide underlying support, uncertainty is likely to continue to act as a drag on sentiment and activity".
- - - - -
The hope for the UK is that some semblance of a Brexit direction will ease the concerns of domestic investors, but the global slowdown and trade tariff protectionism could "shipwreck" the global economy according to Mark Carney, who also added that "progress today is no guarantee of progress tomorrow" when asked if he thought the US and China would finally resolve their differences.