After beating the 2011 all-time record just last week, gold has made further gains this week and has now surpassed $2,000 per ounce, a threshold many saw as a key psychological barrier.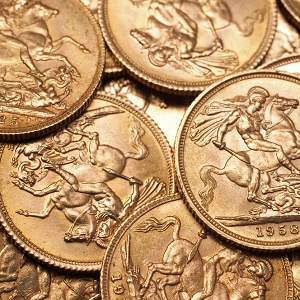 Gold set a new all-time record of $2,065.33 this afternoon – up 5.4% in the past seven days. Silver, which has outperformed even gold in recent weeks, also jumped to a seven-year high of $28.45 per ounce as investors look for further diversification and an alternative safe haven.
Unsurprisingly, the new Dollar high has seen gold also reach new records in other major currencies. The gold price in Sterling jumped to a new all-time high of £1,569.95 per ounce this morning. This value would be higher but for a weakening Dollar in the past few weeks that has pushed the Pound up to a six-month high against it.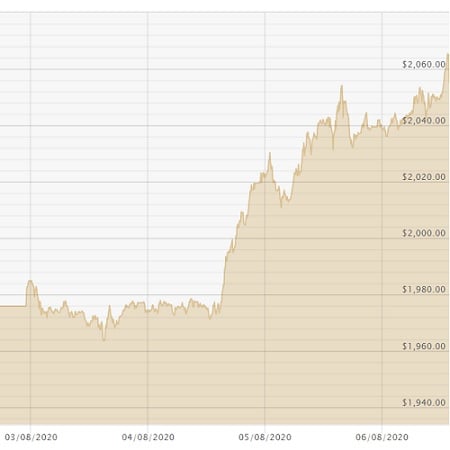 Gold has shown impressive gains so far this week, passing $2,000 per ounce
Silver meanwhile jumped to the highest price since March 2012 – climbing to £21.62 this afternoon. While both metals could begin to hit resistance given their rapid rise, so far the momentum appears to be with them, and any dips are simply being bought into instead.
The gains come as coronavirus cases continue to grow worldwide; with the US, India, Mexico and Brazil all suffering huge rises in infections and deaths as they struggle to get a grip on the pandemic. Other countries like Australia, France and Spain are also experiencing second spikes in cases, and investors are becoming increasingly aware that the pandemic is far from over.
Efforts to create a vaccine have been relatively successful so far compared to normal timelines, but a viable, fully tested, and mass-produced vaccine still looks to be a long way off. In the meantime, every country that has eased lockdown restrictions has subsequently suffered from an increase in cases that present a near impossible balancing act between protecting public health, and national wealth.
The financial response to the crisis for many countries has been unprecedented amounts of money printing, and increasing debt burdens. While necessary in the short term, there is growing fear that the result of these actions will inevitably be inflation; and as a hedge for inflation, gold is therefore seeing record demand as investors seek to protect their wealth's value.
Should the recent momentum continue, then $2,200 per ounce – or even higher –could be reached before the end of the year, especially if the expectations for the virus to worsen in the winter months prove to be true. Even beyond the immediate impact of the pandemic however, the economic damage it has caused will last for years to come, and this could just be the start of an economic depression unseen in decades.