US congress approves $1.9 trillion stimulus bill
---
2021-03-16T15:20:56 Michael Pinson, News Editor
16 Mar 2021, 3:20 p.m.
Following months of delay, the United States has finally approved a coronavirus rescue package, worth $1.9 trillion. The 'American Rescue Plan' authorises several federal spending measures, as well as providing financial relief in the form of cheques to millions of American families following a year of the Covid-19 pandemic.
The measures are expected to help the American economy recover from Covid-19, with unemployment still far above pre-pandemic levels, and businesses still seeing trade below normal levels. Working in tandem with a relatively successful vaccination program, the US economy should be able to reopen in the coming weeks and months.
Markets have so far welcomed the news, with stock markets pushing once more to record highs following volatility in recent weeks due to inflation fears, and despite warnings of a potential bubble forming.
.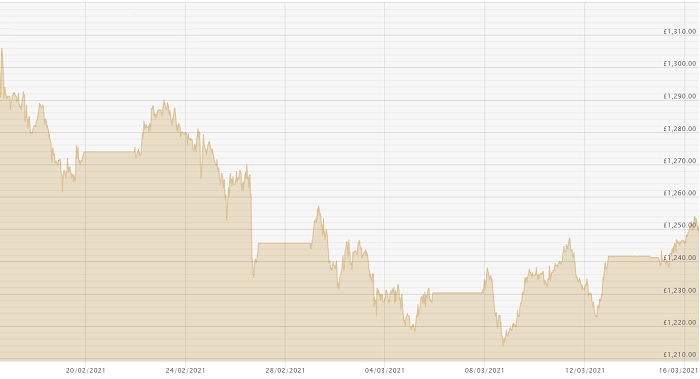 .
The focus on economic recovery and some calming of inflation fears has for now halted the rising bond yields that dominated markets at the start of the month. This has taken some pressure off gold, and seen some recovery in the spot price. Having slipped below $1,700 per ounce on Monday, March 8th, gold is now trading at around $1,740 per ounce.
Further spending is expected in the coming months, and there is speculation that President Biden will be bringing in one of the largest tax rises in over 20 years to help foot the bill. These tax hikes are expected to target companies and the wealthy mostly, and will be a key test of the President's ability to pass legislation.
Tax rises, especially on businesses, could see investors turn away from stocks and towards other assets like precious metals. Inflation however will remain one of the key drivers for gold in the year ahead.
So far, the Federal Reserve has remained adamant that inflation rises are to be expected, but they do not see a sustained and excessive level of inflation to come, and that any rises will be 'manageable' according to Treasury Chief Yellen.
Inflation has remained relatively flat in the US, but analysts are warning that the Fed's outlook could be wrong. With trillions of Dollars pumped into the economy in the past 12 months it is difficult to see prices simply remaining the same or rising only slightly, especially when supply chains have been damaged, and increasing reports of rising prices for factories.
Time will tell then whether the long-term impact of the new President's spending plans benefits gold, but for now the downward trend of the past few weeks has stabilised suggesting a new support level for gold at $1,700 per ounce.