SALE: 3% off everything*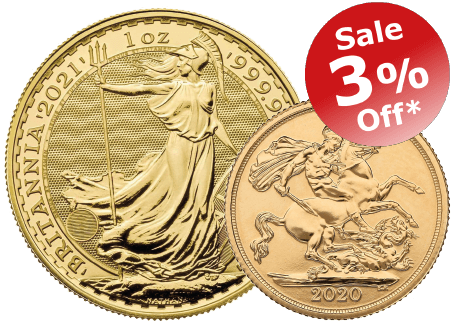 Prices cut on thousands of products. All orders include free insured delivery.
Shop Gold Coins
How To Buy Gold
The ultimate guide to investing in Gold

Read Investment Guide
Gold Half Sovereigns - Sydney
---
Following the discovery of gold in Australia, the Royal Mint opened a new refinery on the island based in Sydney. The move cut down on the global back-and-forth shipping of gold to become coins and was a huge success, leading to a further two refineries in the country.
Any gold Half Sovereign coins struck in Sydney feature the traditional St. George and the Dragon design, whilst also sporting a small letter 'S' above the date to specifically denote the mint of origin.
For any help ordering or product information please call our support team on 0121 634 8060 or email us at [email protected] and we'll get back to you as soon as possible.
.
View Half Sovereigns minted in Melbourne | View Half Sovereigns minted in Perth
---
Find out more about us with an information pack sent direct to you through the post.