SALE: 3% off everything*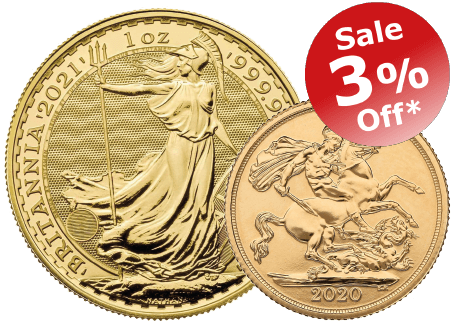 Prices cut on thousands of products. All orders include free insured delivery.
Shop Gold Coins
How To Buy Gold
The ultimate guide to investing in Gold

Read Investment Guide
UK Currency Coins
---
These coins are special gold editions of the UK currency that we use every day. We have a wide range of traditional patterned coins and special editions as part of a series or theme from the Royal Mint.
For further information call us on 0121 634 8060 or email [email protected]
---
---
These UK currency coins have the same dimensions and design as their standard version but are struck in 22 carat gold.
These beautiful coins are available in all seven denominations - £1, 50p, 20p, 10p, 5p, 2p, and 1p.
This range of gold British coins for sale is popular with investors and collectors alike and are in limited supply.
Gold British currency coins tend not to be minted every year and are only issued in limited quantities.
.
You may also be interested in:
.
Should you have any questions about this or other products, please call our helpful and knowledgeable customer service team at 0121 634 8060 where they would be happy to assist.
Find out more about us with an information pack sent direct to you through the post.