1605 to 2005 2 pound coin
---
2005 marked the 400th anniversary of the infamous Gunpowder Plot on November 5th, 1605, and was commemorated with the release of a special two pound coin.
The Gunpowder Plot saw Catholic rebels fail in their attempts to assassinate King James I. The conspirators included the well-known 'Guy Fawkes', and were led by Robert Catesby. They placed explosives under the House of Lords, which they planned to detonate during the state opening of Parliament.
The date of the Gunpowder Plot has become firmly set in British minds, with Bonfire Night becoming a tradition for many of us. To mark the 400th anniversary, the Royal Mint issued the 1605 to 2005 2 pound coin.
.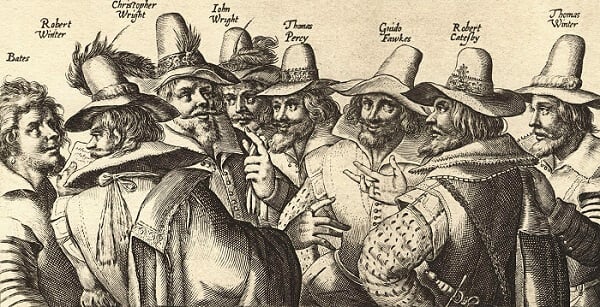 The Gunpowder Plot conspirators, who attempted to assassinate the King by bombing the House of Lords.
---
1605 to 2005 £2 coin
.
To mark this anniversary, the Royal Mint issued a commemorative, circulating 1605 to 2005 £2 coin.
The reverse design of the 2005 Gunpowder Plot £2 coin was designed by Peter Forster. It features the traditional state symbols of the mace, crosier and sword. The obverse shows Her Majesty The Queen, as on other £2 coins which were designed by Ian Rank-Broadley. The edge inscription reads, ' Remember, remember, the fifth of November.'
The Royal Mint struck 5,140,500 Gunpowder Plot £2 coins. Unlike the rare Kew Garden 50p coins, this makes them fairly common. Despite being commemorative, the value of a normal 1605 to 2005 £2 coin is no more than the nominal denomination of £2.
.
---
'Pemembep Pemembep the fifth of Novembep'
.
Coin collectors - or numismatics - are always looking for rare examples of common coins in circulation. Therefore, any coins with a mint error will be worth far more.
Six years after the Gunpowder Plot £2 coin had entered circulation, some appeared to read 'Pemembep, Pemembep, the fifth of Novembep.' In a major coin hunt, many checked their pockets for these 'rare mint error' coins. They subsequently traded, for a short time, at well over their face value.
The Royal Mint, however, quickly scotched the story of a minting error during the production process. The truth was there had been no minting error; the milling on the edge of the coins closely followed the leg of the letter 'R', and overtime these had worn together and made the 'R' look like a 'P'.
.


As the £2 coins became worn, the 'R', merged into the edge milling and looks like 'P'.
---
2005 £2 Two Pound Proof Gold Coin
.
In addition to the circulating coins, the Royal Mint also struck 1,500 gold proof versions of the Gunpowder Plot coins. These coins featured the same design, but were minted from 22-carat gold, and were struck in proof quality.
As well as being highly collectable, the 2005 Proof £2 coin is VAT-free and CGT exempt, making it highly attractive to both coin collectors and investors.
.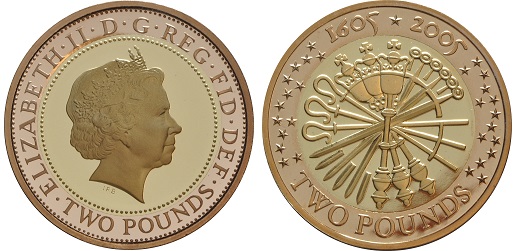 2005 £2 Two Pound Proof Gold 400th Anniversary Gunpowder Plot coin.