1807 £2 coin
---
2007 was the 200th anniversary of Slave Trade Act 1807, and was duly commemorated by the Royal Mint releasing a special £2 coin - one for circulation, the other a gold proof version.
The 1807 Act made it illegal to trade slaves inside the British Empire. Although it was not until another act in 1833 that it was made illegal to keep slaves, the 1807 Abolition Act did mark a turning point in human rights legislation in the UK.
.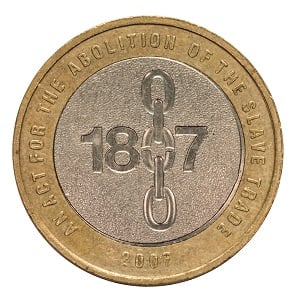 .
---
1807 2 pound coin
.
The reverse design of the 2007 coin was designed by David Gentleman. Surrounding the central design of the year 1807 and a chain, the coin features the words 'AN ACT FOR THE ABOLITION OF THE SLAVE TRADE', with the year of issue – 2007 – at the bottom. The nought in 1807 forms part of a chain, but it is broken to signify the end of slave trading.
The obverse side of the coin shows Her Majesty The Queen. The edge inscription reads, 'AM I NOT A MAN, AND A BROTHER' a phrase attributed to Staffordshire entrepreneur Josiah Wedgwood, which became synonymous with abolition.
The Royal Mint struck 8,445,000 Abolition of the Slave Trade £2 coins for circulation, meaning they are fairly common. A normal, circulated 1807 2 pound coin is only worth its £2 face value.
.
---
The upside down edge inscription
.
Coin collectors, or numismatics, are always looking for rare examples of common circulation coins. Coins with errors are usually scarce, and will often have a higher value as a result.
Stories were circulated in the press - and are still online - that a few of the £2 Abolition coins had been minted incorrectly. These ill-informed news items were based on some coins having the edge of the coin inscription 'upside down' when the obverse side was visible. The Royal Mint quickly pointed out that the story of a minting error with writing upside down was incorrect. The truth was that, edge inscriptions can be struck either way, because of the minting process coins are regularly minted both ways up. These 'valuable mint error' coins were no such thing; they are not rare coins, and are worth only their face value £2.
.
---
2007 £2 Two Pound Proof Gold Coin
.
In addition to the circulating 1807 £2 coin, the Royal Mint also struck 1,000, gold proof Abolition of Slave Trade coins. These coins featured the same design, but were minted from 22-carat (916.7 fineness) gold.
.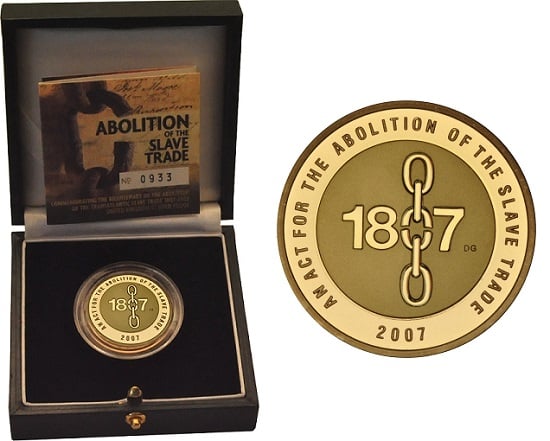 .
Although primarily a numismatic piece, the coin still has a face value of £2. This means it is Capital Gains Tax exempt, and because it is made of gold it is also VAT-free, making it perfect for investors and collectors alike.