1965 Churchill Coin
---
As one of the most famous figures in British history, Sir Winston Churchill was unsurprisingly commemorated with a British coin following his death in 1965. The Royal Mint issued a very special circulating Crown coin commemorating the life of the influential and often contentious Prime Minister.
Sir Winston Leonard Spencer-Churchill was born in 1874, and spent much of his early years in the British Army. He experienced conflict in India, Sudan and the Second Boer War, and gained notoriety as a war correspondent; writing several books about the campaigns and his experiences in the process.
He is most famous however for his leadership of Great Britain during the Second World War, and continued to serve as a politician for the remainder of his life. He was Prime Minister twice; first between 1940 – 1945 and again between 1951 – 1955, after which he resigned as PM due to ill health.
He stayed on as an MP until his death in January 1965, at the age of 90, which was marked by the largest state funeral in history, with representatives from 112 nations paying their respects to a man that helped shape the modern world.
A victorious wartime leader, and a Nobel Prize winner in literature, Churchill is recognised by many across the globe.
.
---
1965 Churchill Crown
.
The 1965 Churchill Crown was a circulating coin. It was made of cupro-nickel, as was customary at this time. Weighing 28.28 g, and measuring 38.61 mm, the Crown was worth a quarter of a pound sterling. It was a very popular coin with the general public and 9,640,000 of the coins were issued.
.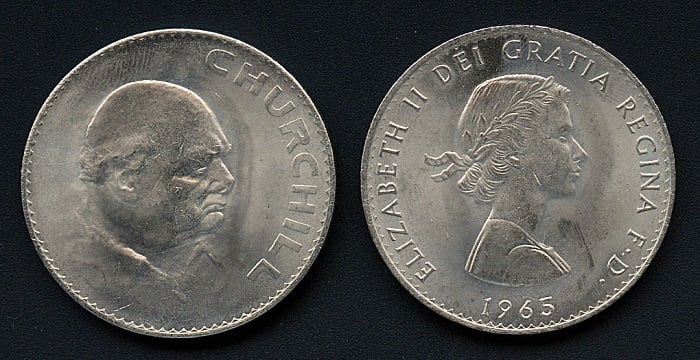 The 1965 Churchill crown. Image courtesy of Flickr.
The 1965 Churchill Crown coin was very special. It was the first British coin to feature someone outside of the royal family - a very rare honour. It was also the first commemorative British coin issued by the Royal Mint, and was the first Crown coin to be issued since 1902 that didn't have a denomination stamped on it.
The obverse features the 'young head' first portrait of Elizabeth II, sculpted by Mary Gillick. The reverse features a portrait of Churchill, taken from a bronze statue made by his favourite sculptor, Oscar Nemon.
The 1965 Churchill Crown is not the only coin to commemorate his life however; the Royal Mint also issued a gold £5 proof coin in 2015 – the 50th anniversary of Sir Winston Churchill's death.
.
.
This coin was struck in 22-carat gold, and features a somewhat unflattering image of Sir Winston on the reverse, and the 'old head' fourth portrait of Queen Elizabeth II, as designed by Ian Rank-Broadley.
.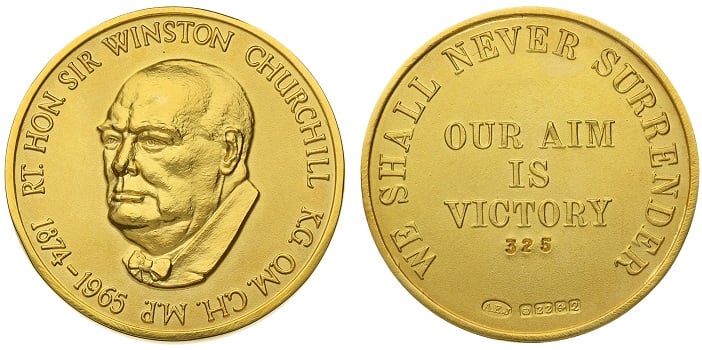 .
Private companies have also issued commemorative pieces such as the gold medal above from A. Edward Jones Ltd of Birmingham. Struck in 22-carat gold, this medal was made in a limited run of only 2000 issues, making it an interesting collectable piece.