The 2014 First World War £2 coin
---
The 2014, First World War £2 coin, was the first in a five-year series of coins issued by the Royal Mint to mark the centenary of World War 1. Termed the 'Outbreak' coin, it very appropriately carries the famous depiction of Lord Kitchener, as used on recruitment posters at the start of the First World War.
The image, sculpted by John Bergdahl, is supported by Kitchener's famous call to arms, ' Your country needs you .' The edge of the coin also has an inscription reading: ' The Lamps are going out all over Europe '.
As is common in recent years, the Royal Mint chose the £2 coin to mark the event. Both a circulating coin, and commemorative proof gold coin, were issued.
.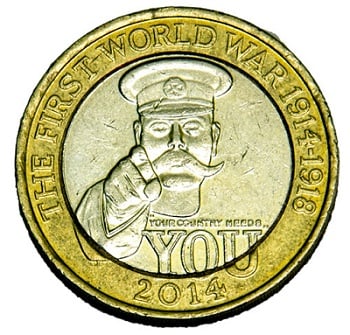 The 2014 common currency First World War £2 coin.
---
WW1 2 pound coin
.
The 'Outbreak' coin was followed by 'In the Grip of Conflict', 'The Horrors of Total War' and 'The Human Cost of War'. The Mint's five-year series ended in 2018 with an 'Armistice' coin with the inscription, ' The guns fall silent '.
The WW1 £2 coins are common currency and legal tender. The Royal Mint issued 5,720,000 Kitchener 'Outbreak' coins. Unlike the rare Kew Garden 50p coins, this makes the circulating WW1 2 pound coin far from scarce. Consequently, today their value is no more than their denomination of £2.
Coin collectors are always looking for rare examples of common coins in circulation - especially from around the Great War. Therefore, as with any common currency circulation coins, perfect mint-state examples may be worth slightly more. Also, should they be found, any minting errors or incorrectly issued £2 coins could be worth far more. However, to date, no such examples have been discovered for this coin.
.
---
First World War gold £2 coins
.
In addition to the circulating coins, the Royal Mint also struck a 22 carat – 916.7 fineness – bullion First World War proof gold £2 coin, containing 14.63g of pure gold.
The precious metal content of these bullion coins far exceeds that of their face value. As legal tender they enjoy tax benefits over precious metal bars of the same weight. Plus, their commemorative design further adds to their value. This makes them attractive to both coin collectors or numismatics and purely financial investors.
.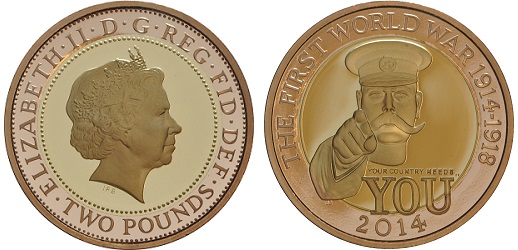 2014 First World War £2 gold bullion coin.